By Tom Ranken, President & CEO, Washington Clean Technology Alliance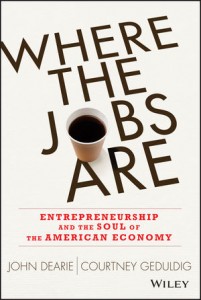 In cleantech, as in other sectors, startups are key.
The role of early stage companies in innovation has been well established.  Small companies have the ability to create world-class expertise in a very focused area.  They are flexible enough to change direction before a large company can call a meeting.  And as Clayton Christensen notes in the Innovator's Dilemma, emerging markets can be enormously important to a small company, but of little interest to their large brethren.
Small businesses account for about two-thirds of job creation.  They employ half of all working Americans.
Even more importantly, "America's true engine of job creation is not small businesses broadly defined, but rather new businesses."  According to a 2009 Kauffman Foundation study, "over the period 1980 to 2005, businesses less than five years old accounted for all net new job creation in the United States."
The key to job growth is the company that employs five workers today—and grows to 300 in five years.
Small company entrepreneurs are rarely found in public policy meetings.  They tend to be very focused on the success of their enterprises.  As a result, according to John Dearie and Courtney Geduldig in their 2013 book Where the Jobs Are, they have "little organized representation in Washington (DC) to educate policymakers and advocate on behalf of (their) needs and priorities."
Dearie and Geduldig embarked upon a three year project to better understand the concerns of this key part of the economy.  They went out and talked to entrepreneurs all over the nation to find out what they believed made a difference in job creation.
Their concerns came from a unique perspective that needs to be better understood.  Several themes emerged:
Human Capital.

  Entrepreneurs told Dearie and Geduldig that there "is a pronounced shortage of qualified talent."  The U.S. education system isn't producing enough graduates with the necessary skills.  "Irrational" immigration policies make the problem worse.  "It is not an exaggeration," say the authors, "to report that our nation's immigration policies enrage (entrepreneurs)."

Raising Money.

  "There is a theory that all good ideas eventually get funded," said Joni Cobb, CEO of Pipeline, an entrepreneurship fellowship organization for high-growth entrepreneurs.  "Well, they don't all get funded anymore."  The economic downturn of the past five years has made it even more difficult to finance new businesses.  Starting a new business costs an average of $30,000—to start.  More than 70% of new businesses are launched using personal assets—including Apple.  Google was launched on credit cards.  Walmart was launched on a loan backed in part by a home.  It has always been difficult to raise startup capital—it is even more difficult today.  And there are fewer startups as a result.

Complexity and Cost of Government.

  A U.S. Small Business Administration study found that compliance with regulations costs small businesses 36 percent more per employee than larger firms.  Dearie and Geduldig report that regulations and policy uncertainty is a "particularly acute" difficulty for new businesses.  Keeping up to date with regulations—federal and state—is "really half our job," according to one entrepreneur.  The number of pages in the Federal Register has expanded six-fold since 1950—the number of pages expanded 19% in 2010 alone.

Policy Uncertainty.

  Changing public policies add risk and make it more difficult for entrepreneurs to get started and become successful.  One study concluded that uncertainty since 2011 has created a $261 billion "tax" on the economy and cost more than a million additional jobs.
John Dearie and Courtney Geduldig have created a body of research knowledge that will add significantly to policy discussions on the creation of jobs.  One would hope that new knowledge on the topic might focus policymakers on a discussion about workable solutions—and be a force for reducing partisan divisiveness.  Giving startups a better chance to become the next Microsoft, Boeing, or Amazon is likely to produce benefits for all of us.
Start-ups are different from existing businesses.  Policy makers interested in growing jobs—in cleantech and in the rest of the economy—would do well to listen hard to the unique viewpoints of these extraordinary entrepreneurs.
Join us on February 12 for our program:  The University of Washington:  Entrepreneurship in all the Right Places to explore the topic further.  You can find information about our events here.