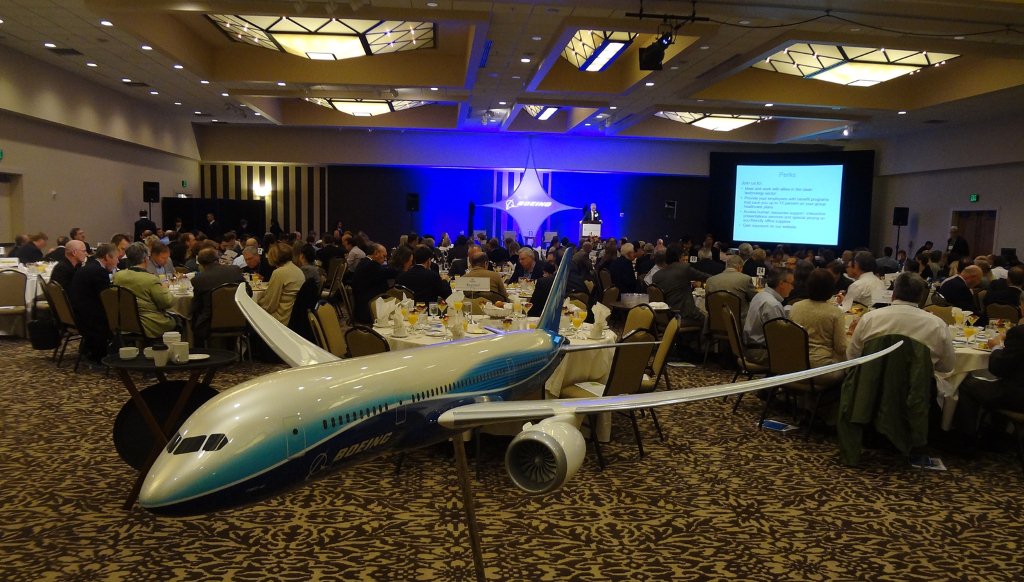 This article originally appeared in Blue & Green Tomorrow's Guide to Sustainable Transport 2014.
A report from the Intergovernmental Panel on Climate Change (IPCC) previously estimated that 2% of manmade carbon emissions came from aviation. This was expected to increase to 5% by 2050. Whilst the aerospace industry has made progress, questions remain about whether it is doing enough to cut emissions and become more sustainable.
Terry Mutter, director of enterprise strategy for Boeing Environment, Health and Safety, admits that although each time the industry improves it "gets harder and harder" to carry on advancing its sustainability performance, there have been recent examples of demonstrated progress such as Boeing's 787 improving fuel efficiency by 20%.
He adds that emissions increasing past the IPCC's estimated 2% was "something the industry is working hard to address". The sector has worked together to set up a framework for improving the impact aviation has on the environment. It has not only considered how efficient vehicles and fuels are, but the overall system the planes are used in, such as air traffic control.
Mutter explains, "What's important for all industries is to understand where you compete and where you collaborate within the industry. So we've agreed that whilst we compete on how efficient our aeroplanes are with other manufacturers, we collaborate with the industry when it comes to the areas of traffic management and sustainable biofuels because if we can make sure those parts of the system are efficient the industry has a much better chance of being able to grow whilst reducing its overall footprint."
Through the International Civil Aviation Organisation (ICAO), the industry has made a commitment to have carbon neutral growth by 2020 and for emissions to be reduced by 50% by 2050, from a 2005 baseline.
"To my knowledge, aerospace is the only industry that has come up with a framework and has made commitments in terms of reducing carbon emissions as an industry not just a company", Mutter adds.
In order to achieve these targets, the industry needs to make improvements across the whole aviation system. The sector is growing, so emissions would continue to rise if the industry only focused on creating more efficient aeroplanes. The sector predicts it can cut its emissions by 12% by effectively implementing current technology that will improve the efficiency of the air traffic management system.
Boeing has proved that it is possible for the industry to grow whilst taking positive action when it comes to the environment. Following a complete restructure of the company's environment programme in 2007, it set five-year targets, including cutting emissions, water use and waste. It exceeded them all.
Over this period, greenhouse gas emissions were cut by 9% whilst internal operations continued to grow with production rates increasing by 50%. The company has now committed to zero growth in absolute terms in the areas of greenhouse gases, water and solid waste to landfill by 2017.
Mutter explains that Boeing succeeded because it had linked environmental projects to the business plan and economic benefits.
"Not only is it the right thing to do but it is the right thing to do for business. We have never implemented any sustainability project that did not have a positive return on investment", he says.
Technological advancements are key to reducing the negative effects aerospace has on the planet. In January, Boeing identified 'green diesel' as a significant new source of sustainable aviation biofuel that emits at least 50% less carbon than fossil fuels over its lifetime. Green diesel offers the industry an alternative to traditional fuel sources. It is already in production and, unlike other biofuels, is competitively priced.
Boeing also partners with airlines to test future technologies related to various environmental improvements –such as adaptive trailing edges, fuel cell technology and vibrations sensors – through its programme ecoDemonstrator. This gives it an opportunity to test different technologies and highlight what it should be aiming for in the next launch in the commercial sector.
When you compare how far the aerospace industry has come in terms of cutting emissions, it surpasses other forms of transportation. Comparing the Boeing 707, which began development in 1958, with the newer 777 model, newer planes are 70% more fuel efficient and have a 90% lower noise footprint.
Mutter concludes, "The industry has a history of huge innovation and technological gains. We've cut emissions before, it certainly gets harder and harder, but we're optimistic we've got the right plan and we'll continue to innovate."