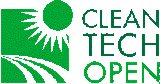 Be on your game.  Start your application for the 2014 Cleantech Open program today and position yourself and your company to win!
Being your application and pay your application fee before April 23rd, and you'll have the opportunity to access to the deep expertise of a business foundation expert to help you forumlate your application.  Admission to the Cleantech Open is a competitive process, and you're assigned mentor will help you make your application the best it can be.   Don't delay!
The Cleantech Open runs the world's largest cleantech accelerator. Our mission is to find, fund and foster entrepreneurs with big ideas that address today's most urgent energy, environmental and economic challenges.
The Cleantech Open provides entrepreneurs and technologists the resources needed to launch and create successful and sustainable clean technology companies. We do this through our accelerator programs which provide participants with training, mentoring, infrastructure, relationships and funding opportunities to help grow them into world-class cleantech companies.
Since its inception in 2006, the Cleantech Open has awarded over $6 million in cash and services to support cleantech growth companies. The 865 participating companies in the Cleantech Open's accelerator programs have raised more than $900 million in external capital.
The Cleantech Open's reputation is built on its clean technology Accelerator, the largest of its kind anywhere in the world. Cleantech Open alumni companies continue to score scientific breakthroughs, funding, deployments and customers.