Our friend and occasional panelist, Yoram Bauman, Ph.D.,  was profiled in The Herald, August 17, 2014.
By Robin Lindley
August 17, 2014 – (Everett, WA) – Seattle's Dr. Yoram Bauman is probably best known for clarifying the intricacies of economics with doses of humor as "the world's first and only stand-up economist." He has a national following and has shared the stage with luminaries from Robin Williams to Nobel Prize-winning economist Paul Krugman.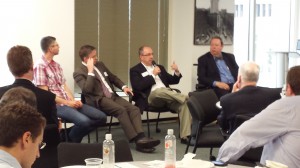 Dr. Bauman now focuses his wit and economics expertise on the daunting issue of climate change with illustrator Gary Klein in an educational and entertaining new book, "The Cartoon Introduction to Climate Change" (Island Press). In the book, Dr. Bauman offers — using humor — a primer on global climate history, the science of climate change, the consequences of human use of fossil fuels, and policy guidelines for addressing climate change — before it's too late.
"The Cartoon Introduction to Climate Change" has won praise for its accessibility, skillful combination of text and drawings, and nonjudgmental approach to complex policy questions. John Michael Wallace, professor emeritus of Atmospheric Science at the University of Washington, commented that the book is "A clear, concise rendition of the story of human-induced climate change. . . [and] an innovative springboard for discussion of what we can do as individuals and as a society to turn down the heat in our planetary 'compost pile.'"
Dr. Bauman is a doctoral environmental economist and active in Carbon Washington, an effort to bring a revenue-neutral carbon tax to Washington state. He also co-authored with Mr. Klein the two-volume "Cartoon Introduction to Economics." His website is www.standupeconomist.com.
Dr. Bauman recently talked about our climate at a coffee house in Seattle's University District on his return from a round of talks for audiences ranging from the American Enterprise Institute and Research for the Future in Washington D.C., to a conference of New England public utilities commissioners in Vermont.
---
Robin Lindley: How do you see climate change and why are most scientists convinced it's actually occurring?
---
Dr. Yoram Bauman: Climate change is occurring because of the burning of fossil fuels, deforestation, and putting greenhouse gases into the atmosphere, mostly CO2 [carbon dioxide]. Lately, we've been learning about ocean acidification so that some carbon that goes into the atmosphere gets dissolved in the ocean and affects ocean chemistry and that can change things like the ability of ocean creatures to build shells. We also see changes in weather patterns and precipitation. A warmer atmosphere tends to hold more moisture so you get heavier and heavier rainstorms.
So a whole host of issues come from putting CO2 and other greenhouse gases into the atmosphere. Humans are slowly contributing more to the amount of CO2 in the atmosphere [primarily from use of fossil fuels]. One hundred years ago we were at about 300 parts per million and now were at about 400 parts per million.
---
Read the entire story in The Herald, August 17, 2014.  Author Robin Lindley is a Seattle writer and attorney, and the features editor for the History News Network.  He can be reached at robinlindley@gmail.com.