The Carnegie Foundation for the Advancement of Teaching has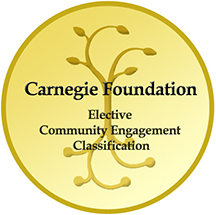 recognized Washington State University with a Community Engagement Classification for the second time. The current classification runs for 10 years.
"At WSU, community engagement is an important and integrated part of how we do business every day," said WSU President Elson Floyd. "This classification demonstrates how true engagement with local, statewide, national and international communities has become an ingrained standard practice for all sectors of our university family."
The Foundation cited WSU's "excellent alignment among campus mission, culture, leadership, resources, and practices to support dynamic and noteworthy community engagement," as the reason for the re-classification.
As a land-grant institution, community engagement is central to WSU's mission to advance, extend and apply knowledge to improve quality of life and strengthen the economy of the state, nation and world. Recently, the university increased its emphasis on outreach and engagement by establishing both as central themes in nearly every aspect of WSU's operations.
"WSU lives out those themes by continuing to increase access to academic and research programs, expanding and enhancing WSU's engagement with external partners, and increasing faculty, staff and students' contributions to the state, nation and world," said Anson Fatland, WSU associate vice president for economic development.
Examples of university-wide efforts that highlight community engagement include:
WSU's four urban campuses that give place-bound students access to higher education
WSU Extension centers that support business, industry, communities and individuals in every county of Washington
The Center for Civic Engagement that engages students in more than 74,000 service hours each year
International Programs' global outreach, and
Small Business Development Centers that provide no-cost business advising throughout the state.
In addition, WSU faculty and students contribute through research collaborations with communities, organizations and businesses; and by working with the Office of Commercialization to move innovations from the lab to the marketplace to improve quality of life.
The Community Engagement Classification is one of seven nationally recognized classifications established by the Carnegie Commission on Higher Education over 30 years ago to help "recognize and describe institutional diversity in U.S. higher education." According to a press release from the Carnegie Foundation, colleges and universities with an institutional focus on community engagement were invited to apply for the Community Engagement Classification, which was first offered in 2006. This year the Foundation selected 240 U.S. colleges and universities out of over 400 applicants.