Former White House Policy Advisory to Discuss Clean Technology Market Acceleration
at the Pacific Northwest's Leading Cleantech Event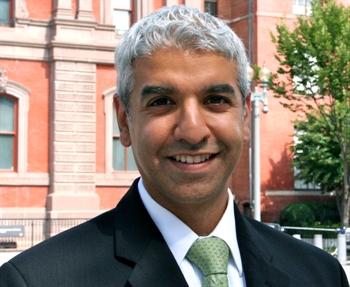 SEATTLE; April 13, 2015 – CleanTech Alliance, the nation's largest state-level clean technology industry association, announced Dr. Cyrus Wadia, former clean technology policy advisor to the White House, as a keynote presenter at the CleanTech Showcase 2015. Dr. Wadia will share his extensive experience and insights on technology development and market acceleration at the Pacific Northwest's leading cleantech event.
Dr. Wadia most recently served as assistant director for clean energy and materials research and development for the White House Office of Science and Technology Policy where he worked on federal policies to accelerate innovation and deployment of advanced material systems for clean energy, national security and human welfare. Prior to joining the White House, he held a dual appointment at Lawrence Berkeley National Laboratory (LBNL) and the Haas School of Business. His research was motivated by the pursuit of new, low-cost energy technologies using earth-abundant materials. For his work with novel solar cells, he received the Massachusetts Institute of Technology (MIT) TR35 Young Innovator award. Dr. Wadia also spent seven years in Silicon Valley launching new technologies to market. He earned his PhD in energy and resources from UC Berkeley and holds both an MS and SB in chemical engineering from MIT.
"Dr. Wadia is a renowned expert in clean energy policy and market acceleration with a remarkable track record for developing programs that shorten the path from research to commercialization to market transformation," said J. Thomas Ranken, President and CEO of the CleanTech Alliance. "Dr. Wadia will share his insights at the CleanTech Showcase 2015, offering entertaining lessons learned for our flourishing cleantech industry."
In addition to Dr. Cyrus Wadia as a keynote presenter, the CleanTech Showcase will include a roundtable panel of finance executives and investors offering guidance to attendees. Additional finance panel details will be announced as the event approaches.
The annual CleanTech Showcase is the leading one-day event to network, learn and invest in the latest cleantech innovations from companies and research institutions across the Pacific Northwest. Twenty-four companies will present to more than 300 executives, partners and investors. Keynote speakers, panels, poster sessions and an interactive exhibit space will highlight even more technologies, services and ideas covering clean technology, energy and environmental sustainability.
The CleanTech Showcase is June 22, 2015, at Bell Harbor International Conference Center in Seattle. Registration to attend is now open. Companies interested in sponsoring or exhibiting should contact Sharon Schierle at sharon@cleantechalliancewa.org or 206-389-8662.
About the CleanTech Alliance
CleanTech Alliance Washington is the largest state cleantech trade association in the nation, representing more than 300 businesses and organizations. Founded in 2007 by business leaders, the Alliance facilitates the generation and growth of cleantech companies, jobs, products and services to advance the state's position as a leader in cleantech. The Alliance offers a range of business services and benefits uniquely designed to help businesses gain visibility, access services at a lower cost and benefit from public policy advocacy. Learn more at www.CleanTechAllianceWA.org.
For the latest CleanTech Alliance news and updates, follow us on Facebook, Twitter and LinkedIn.
# # #
Media Contact:                                                                                       
Gabe Boeckman
CleanTech Alliance
206-389-7271