"Where the Jobs Are" Author and Executive Vice President for Policy at the Financial Services Forum Ties Entrepreneurialism and Startups to Job Growth and Economic Recovery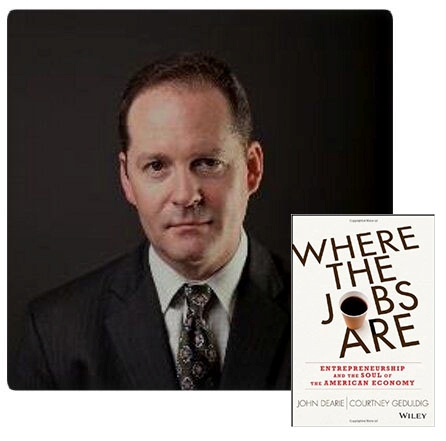 CleanTech Alliance, the nation's largest state-level clean technology industry association, named John Dearie as the second keynote for the CleanTech Showcase 2015. Author of "Where the Jobs Are," Dearie will outline entrepreneurial policies and programs to accelerate America's true job creation engine – startups.
Following the economic downturn of 2008, millions of Americans were left unemployed or underemployed for extended periods of time. Policies and programs failed to accelerate job creation and economic recovery. John Dearie interviewed more than 200 entrepreneurs and co-authored the definitive guide and recommended solutions in Where the Jobs Are: Entrepreneurship and the Soul of the American Economy.
"John Dearie highlights the importance of entrepreneurialism to our economy by showing that virtually all net new job creation is driven by startup companies," said J. Thomas Ranken, President and CEO of the CleanTech Alliance. "He outlines the issues and frustrations holding American startup companies back. More importantly, he offers real, actionable policy recommendations to remove obstacles and spur job creation. We're excited to hear his presentation at the CleanTech Showcase 2015."
Dearie is Executive Vice President for Policy at the Financial Services Forum. Prior to joining the Forum in 2001, he spent nine years at the Federal Reserve Bank of New York where he held positions in banking studies, foreign exchange, policy and analysis. His writing has appeared in the The Wall Street Journal, The Financial Times, Politico, American Banker and China's Caijing Magazine.
The CleanTech Showcase is the Pacific Northwest's leading one-day event to network, learn and invest in the latest cleantech innovations. In addition to keynotes from John Dearie and Dr. Cyrus, former White House policy advisor, 24 presenting companies will feature their latest innovations along with a robust group of research and emerging company poster sessions. The CleanTech Showcase is June 22 at Bell Harbor International Conference Center in Seattle. Registration is now open.
Companies interested in sponsorship or exhibit opportunities can contact Sharon Schierle at sharon@cleantechalliancewa.org or 206-389-8662.
About the CleanTech Alliance
CleanTech Alliance Washington is the largest state cleantech trade association in the nation, representing more than 300 businesses and organizations. Founded in 2007 by business leaders, the Alliance facilitates the generation and growth of cleantech companies, jobs, products and services to advance the state's position as a leader in cleantech. The Alliance offers a range of business services and benefits uniquely designed to help businesses gain visibility, access services at a lower cost and benefit from public policy advocacy. Learn more at www.CleanTechAllianceWA.org.
For the latest CleanTech Alliance news and updates, follow us on Facebook, Twitter and LinkedIn.