J. Thomas Ranken
November 30, 2015
The weather in Chennai the past few days has been monsoon-like.  Heavy winds and driving rains have forced some meeting cancellations and kept us largely in the beautiful LeeLa Hotel in the southeastern Indian state of Tamil Nadu.  And while we have learned much from our new Indian friends, I fear we may be seeing India through strictly American lenses in a five-star hotel.
In a nation that has 300 million people with no electricity and a GDP per capita that is one-tenth of the US, that can't be a fully accurate view.
Our first day in Chennai started at 215 a.m. as we arrived following 26 hours of travel.  We cleared customs quickly, but seemed to wait forever for our bags.  Thankfully, the hotel got us in our rooms quickly, but by that time it was nearing 5 a.m.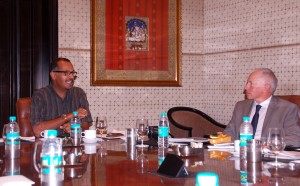 PR Ganapathy of Villgro with trade mission
delegate Barry Shaw
The day began–again–six hours later with our first briefing.  We were very impressed by Mr. PR Ganapathy, President (India) of Villgro.  Villgro, formerly is a non-profit that acts somewhat like an early stage venture capital firm helping to develop business innovations that help the rural poor.  These are not micro investments; they begin with investments of $100,000 and can grow to $600,000.  "Successful business innovations,"  he said, "often take existing technology and repurpose it to address new market needs.  Successful innovations don't require new inventions."  Villgro hopes to expand from three nations (India, Vietnam, and Kenya) to a half dozen.
The delegates were pleased to have the opportunity to meet with Ms. Mala Venkat and her colleagues at lunch.  Ms. Venkat is a Senior Trade Specialist with the US Commercial Service.  When asked about the Modi Administration, she indicated optimism that the Prime Minister was on the right track to improving conditions in India.
M. Velmurugan, Executive Vice-Chairman of the Tamil Nadu Industrial Guidance and Export Promotion Bureau gave an enthusiastic overview of the impressive cleantech efforts of the state of Tamil Nadu.  Chennai is a city of eight million people in a state of 72 million (11th largest in India).  It is a global manufacturing hub and has 17% of India's factories.  Tamil Nadu has the highest level of renewable energy in India with 38% of installed capacity.  He noted that India's economic growth rate now exceeds that of China and has a growing young consumer class.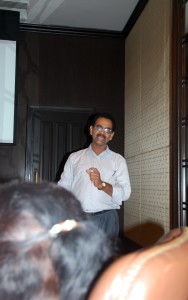 Dr. Palanivelu, Anna University,
addresses the Seattle Mission
Our final discussion of the day was with Dr. K. Palanivelu, the Director of the Center for Climate Change and Adaptation Research at Anna University in Chennai.  Dr. Palanivelu stressed that climate change was both an environmental and a development issue.  He discussed both national and state plans for dealing with climate change and noted that Tamil Nadu should expect warmer summers, a 3.5 degree Celsius increase in temperatures, and a decrease in rain of four percent.
The day closed with a splendid dinner reception with the Indo-American Chamber of Commerce.
We learned and heard a lot, but we still are limited by our inability to get outside of the walls of a beautiful hotel–and our own cultural understanding. 
Tom Ranken, CleanTech Alliance President & CEO, is taking part in the Trade Development Alliance of Greater Seattle cleantech mission to India. Follow his journey on Twitter or at www.cleantechalliance.org/news/.