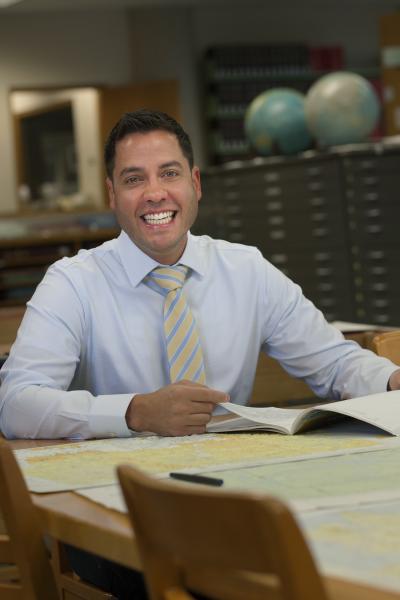 Governor Jay Inslee has appointed Elvin Delgado to the Board of Directors of the Joint Center for Deployment and Research in Earth-Abundant Materials. Delgado, professor of geography, is the director of Central Washington University's Institute for Integrated Energy Studies (I2ES), the only energy program in the state that focuses on strategies to transition from old energy sources to new ones.
"It's not enough just to develop green energy when most of the world is still dependent on conventional sources of energy," said Delgado, adding that the new program has enrolled twice as many students as expected. "In order to move from conventional sources to alternative energy, government and business need strategies that incorporate the entire spectrum of energy resources—from traditional sources, such as oil and gas, to alternative sources, such as solar and wind."
The state board works with Washington's clean technology and transportation industry associations and firms of all sizes to identify the research areas that will benefit their economic vitality. In addition, the board assists firms in integrating existing technologies into their operations; develops internships, on-the-job training, research, and other opportunities; assists researchers and firms in safeguarding intellectual property while advancing industry innovation; and develops and strengthens university-industry relationships through promotion of faculty collaboration with industry.
Delgado is currently a member of the Board of Directors of the Energy and Environmental Specialty Group of the Association of American Geographers. From 2013-15, he was the chair of the group, and in 2013 was among 28 scholars globally selected to participate in the energy-water nexus training funded by the National Science Foundation Pan-American Advanced Studies Institute. A Fulbright scholar, Delgado's research studies the political economy and political ecology of energy production in Latin America, in particular, Venezuela and Argentina. Delgado holds a doctorate in geography from the Maxwell School of Citizenship and Public Affairs at Syracuse University in New York.
I2ES will seek state support to speed the growth of a new energy management program. The bachelor of science degree in Integrated Energy Management includes an industry-supported apprenticeship program that provides the intensive work experience students need to be effective energy managers. In doing so, it also complements and compares traditional and alternative energy resources with specializations in integrated energy policy, integrated energy business, and integrated power systems.
I2ES also shares knowledge through regional, national and international collaborations, and serves businesses and academia as the source for relevant research in integrated energy issues. For more information about I2ES, go to http://www.cwu.edu/energy.