Three Shoreline students in the Clean Energy Technology (CET) program are starting Winter quarter off with recognition, and some help, from the American Society of Heating, Refrigerating and Air-Conditioning Engineers (ASHRAE). The students each received a scholarship in the amount of $2,000 from the organization, which is dedicated to the advancement of the arts and sciences of practices related to the reduction of building energy use.
"We just started an ASHRAE student chapter here on campus in Fall 2015," said CET Program Director, Louise Petruzzella, "so to have so many of our students be chosen for these prestigious scholarships is really extraordinary news that speaks to how the clean energy industry as a whole is recognizing the great work we're doing here at Shoreline."
Clean Energy Tech is a rapidly growing industry, and students in CET at Shoreline are learning the skills and knowledge to participate in the field that is all about the reduction of building energy use and the environmental issues that it represents.
The scholarship recipients, Laura Humiston, Dana Shaphren, and Jason Parker, were required to respond to an essay regarding their career goals, steps, and involvement in ASHRAE. In addition, they were asked to identify what they saw as "the greatest opportunity to improve their education." The scholarships were awarded in honor of Harry Clayton Sutch, a long-time professional in the industry.
"We're really excited to be involved with ASHRAE through our student chapter," said Petruzzella. "It means our students are joining an international society of 53,000 members (in 132 nations) that offers them the chance to meet industry leaders and to connect classroom learning from Shoreline to what is going on in the field."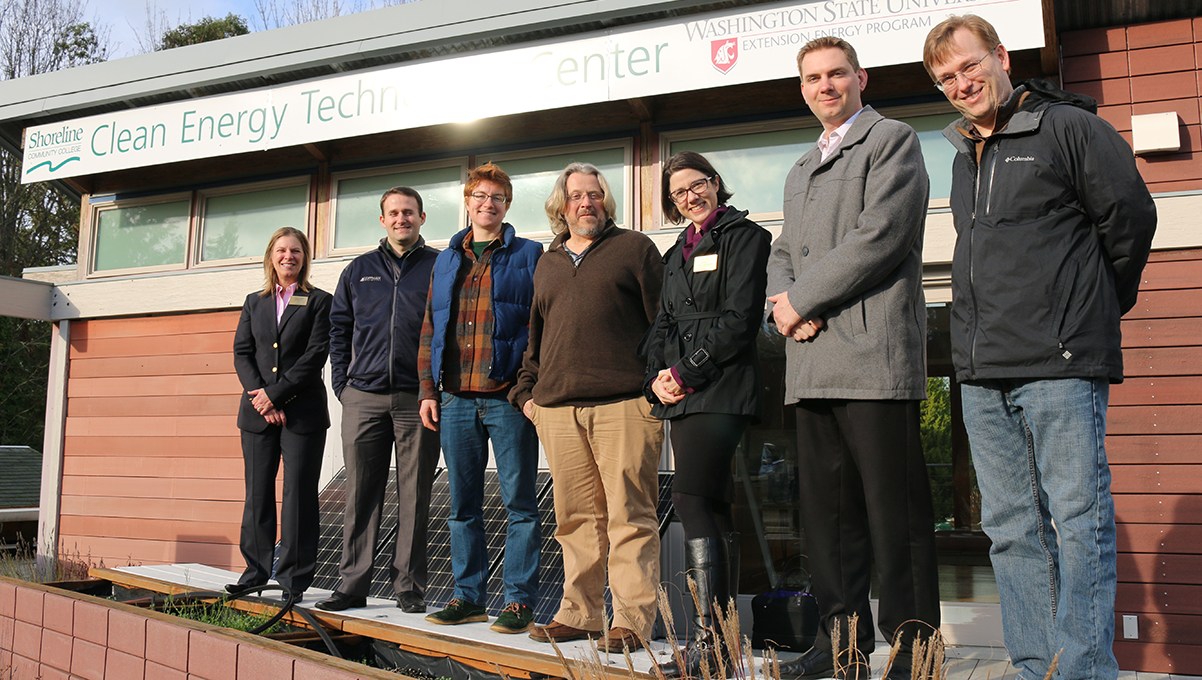 Clean Energy Technology faculty pose in front of the CET Zero Energy House on Shoreline's campus. From left to right: Louise Petruzzella, Director Clean Energy Technology program at Shoreline; Tamas Bencsik, ASHRAE member; Dana Shaphren, student; Jason Parker, student; Laura Humiston, student; Richard Doremus, ASHRAE member; and David Redding,