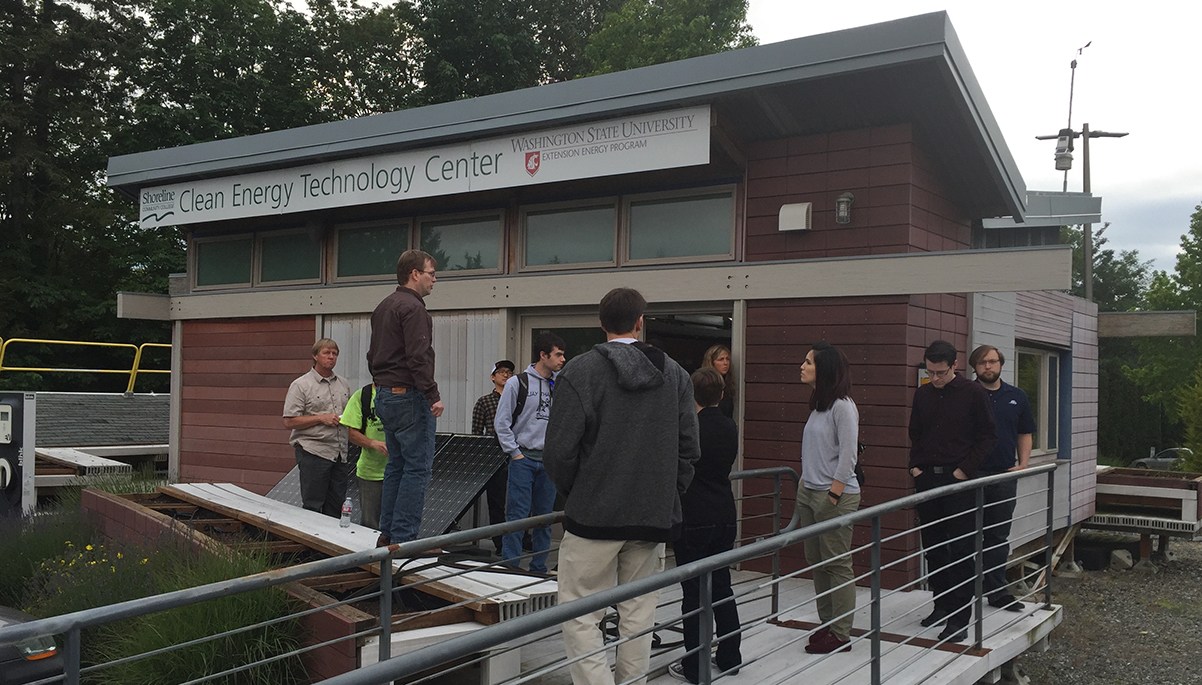 Shoreline CET and engineering students network with faculty and industry professionals at the Zero Energy House on Shoreline's campus as part of an ASHRAE YEA event.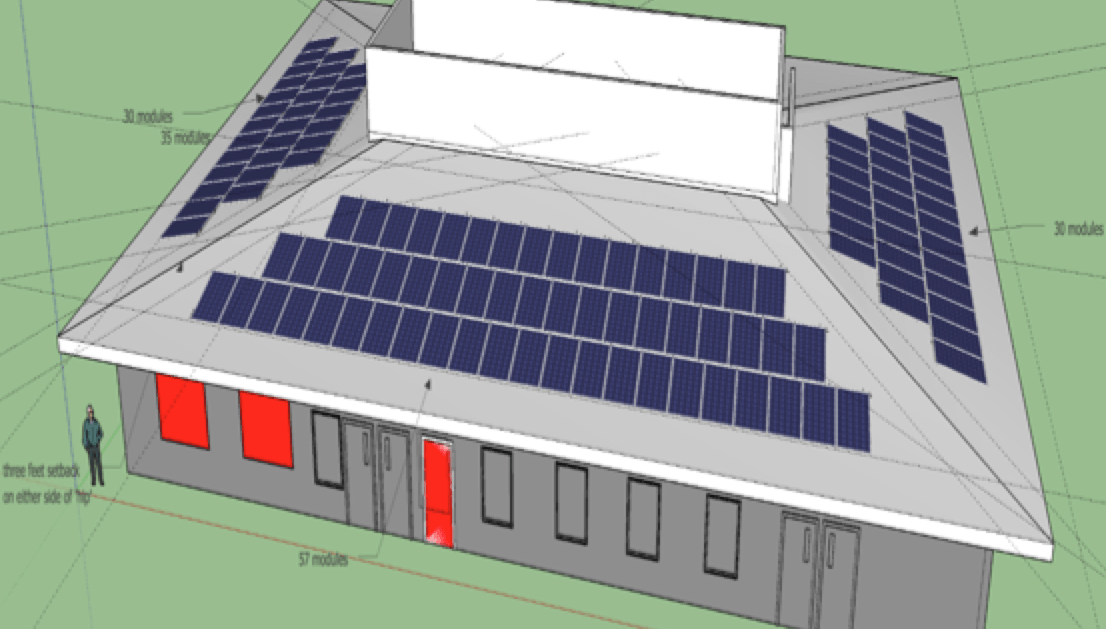 A schematic from a student presentation shows the PV basis of design for a retrofit of an existing building into a Net Zero Energy Building.
On May 25, Shoreline Community College's ASHRAE (American Society of Heating, Refrigeration, and Air Conditioning Engineers) Student Club hosted the Puget Sound Young Engineers in ASHRAE (YEA) for an after-work networking event highlighting the college's Clean Energy Technology (CET) program.
The topic of the evening was Net Zero Energy Buildings (buildings that produce as much energy as they consume), with a focus on how the CET program structures its curriculum around this building model. The goal of the evening was to give students a chance to present their course project to industry professionals, and then receive feedback on their work.
"In a professional technical program like CET, it's so vital that students get to engage with and get feedback from industry employers," said Louise Petruzzella, Director of Clean Energy Technology at Shoreline. "Having that exposure to the larger CET community helps students hone their focus early on, and also allows them opportunities to network, meet mentors, and take the pulse of the industry."
After a brief introduction by instructor David Redding, the event began with a presentation of a two-quarter long project in which CET students analyzed and designed a retrofit of an existing building into a Net Zero Energy Building.
Tasks for the retrofit included building envelope performance analysis, efficient heating and cooling systems integration, and internal loads calculations. Once benchmarks had been established, students then used AutoCAD to layout the new building's heat pump, air handling unit, and fan coil systems onto the site plan of the building.
A lively question and answer period followed the presentation. Students from both the CET and engineering departments engaged in a constructive discourse with energy professionals regarding their design methodologies and eventual logistical layout of their systems.
Following the presentation, YEA members were invited on a tour of the CET Clean Energy Technology Center, which itself was designed to be a Net Zero Energy Building. During the tour, students networked with YEA members, establishing relationships and working further towards the eventual goal of employment within the energy industry.