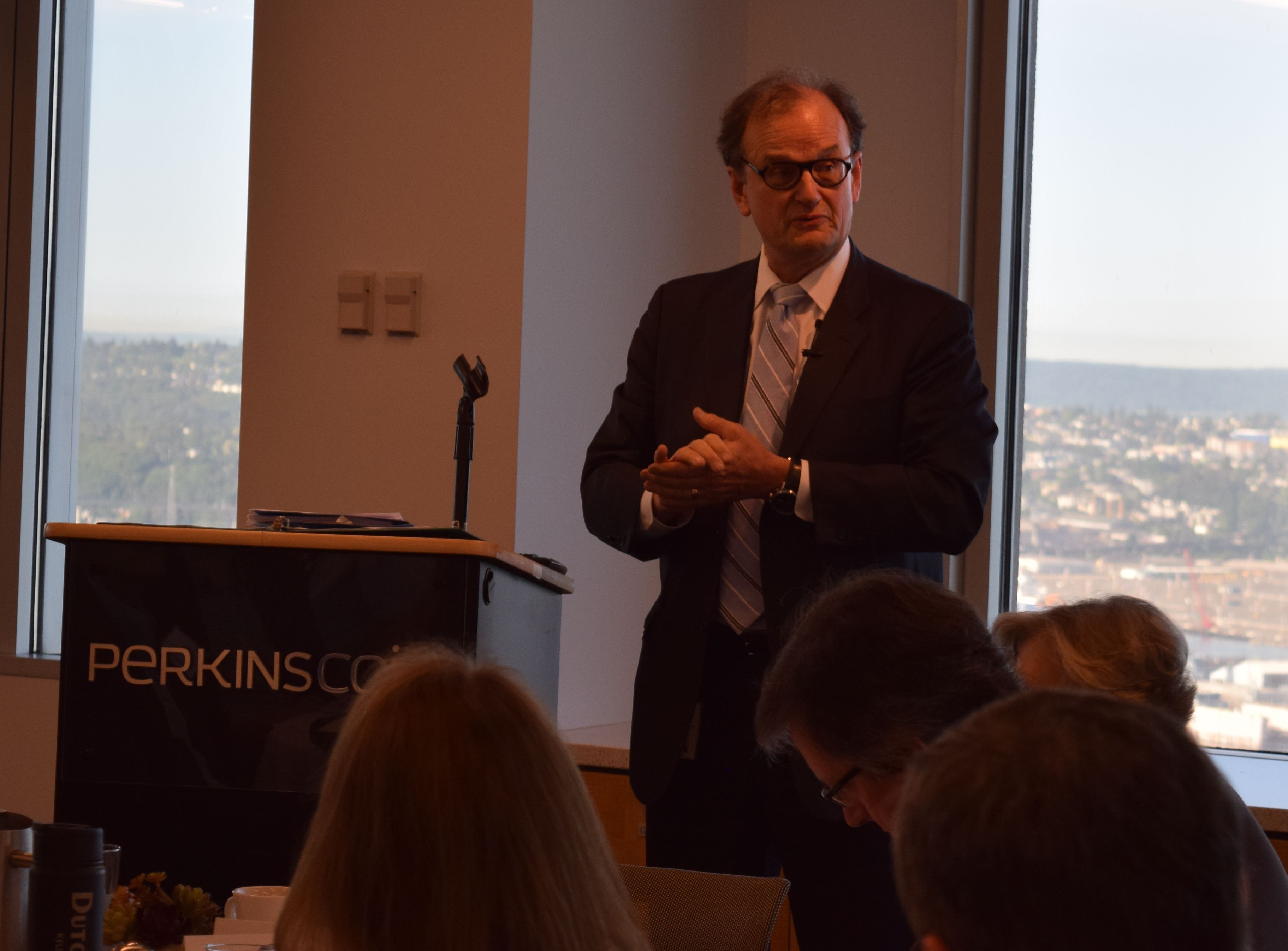 Can regulation and innovation coexist in the cleantech industry? UTC Commissioner Philip Jones tackled that question during the sold-out May 11 CleanTech Alliance #CleanTechBacon event at Perkins Coie.
The Utilities and Transportation Commission (UTC) regulates private and investor-owned utility and transportation services across Washington State. The result ensures utility and transportation rates remained fairly priced, available, reliable and safe.
Philip Jones was appointed to the Washington Utilities and Transportation Commission by Governor Chris Gregoire in March 2005. He is a respected industry leader, serving various roles with the National Association of Regulatory Commissioners (NARUC), National Regulatory Research Institute (NRRI) and the Electric Power Research Institute (EPRI).
On May 11, Commissioner Jones analyzed the dynamic relationship between regulation and innovation and what it means for Washington State utilities and rate payers. He started by setting the record straight on policy and innovation drivers by stating:
"Most policy innovation is happening at the state level."
What does that mean? According to Jones, the U.S. Department of Energy has not kept pace with funding utility R&D needs, leaving states to fill that need. This opens the door for the U.S. to lose its innovation lead to emerging energy players like China, India and others. Jones also feels that the U.S. Environmental Protection Agency (EPA) is becoming the new energy overseer for the U.S. Environmental mandates and concerns are now the top driver for energy regulation.
UTC Commissioner Jones: Top Energy Policy & Innovation Drivers
Environmental mandates
Big data and technology innovation
Smart grid technologies
Energy efficiency and less energy consumption
Fracking and oil production innovations
According to Jones, utility business models are changing. As utilities face new challenges, they are looking for new opportunities for growth. The Clean Energy Fund demonstration projects conducted by Avista, Puget Sound Energy and Snohomish PUD are all excellent examples. He shared that there are a lot of opportunities in energy storage, but that "more needs to be done."
UTC Commissioner Jones is optimistic on the possible signs of change surrounding utility-scale solar and other renewable energy sources, distributed generation and storage technologies.  Like all great cleantech efforts, collaboration is key. Jones called for even more collaboration between academia and utilities. He pointed out that the Pacific Northwest is ideal for renewables because of our hydro resources, conservation ethic, vertically integrated industries and utility structure – a fact not lost on the audience at the #CleanTechBacon breakfast.
UTC Commissioner Jones maintained the sold-out crowd's attention for a very informative and interactive breakfast session. Learn more by following @WACleanTech on Twitter and the #CleanTechBacon conversation.