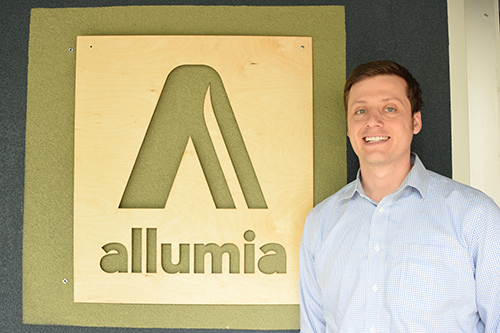 Aaron Block, Principal and Founder of Allumia,
stands outside the company's office in Capitol Hill.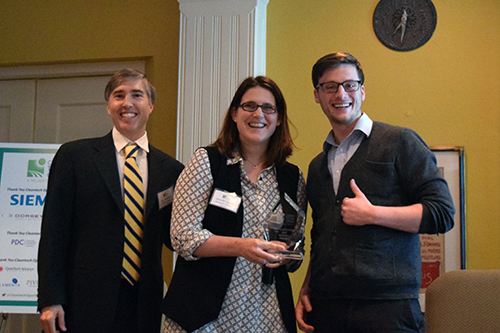 Allumia took home top honors in the
2015 accelerator program competition.
Adoption remains the biggest obstacle for clean technology market transformation. Simply getting technology to work doesn't mean that customers will pay to deploy it. That's where Allumia comes in.
Aaron Block, Allumia's Principal and Founder, entered the CleanTech Alliance via its commercialization and accelerator programs in 2015. With a background in project finance and one successful startup under his belt, Block created Allumia to spur clean technology adoption and innovate the efficiency-as-a-service model.
"Efficiency sounds great, but customers are rarely willing to spend money out of pocket to save energy," explained Block. "If a business owner has $200,000 in the bank, they're not going to spend money replacing functioning lights with more efficient LEDs to save a fraction of their utility costs. It makes much more sense for them to invest that money back into their core business to expand and grow. Allumia allows business owners to focus on doing what they do best – running their business – while still deploying energy efficiency upgrades."
Allumia's efficiency-as-a-service model is simple. The company delivers immediate savings on energy costs by installing high efficiency lighting with no investment required by the business owner. The new lighting systems can save commercial and light industrial facilities (e.g., warehouses and parking structures) between 40% and 75% on their energy costs and as much as 85% on their maintenance costs.
Transparency and simplicity are central to Allumia's model, so the company installs a revenue-grade metering system along with their efficiency upgrades, to track, measure and show customers the savings being generated. The resulting energy savings are broken into two buckets. The first bucket goes to Allumia for a predetermined time period. The business owner keeps the second bucket, making them cash positive from day one of the project.
Allumia Efficiency-as-a-Service Model:
Allumia pays all upfront costs, purchasing the efficiency retrofits.
 
Allumia project managers design, contract out and oversee installation of the retrofits.
 
Allumia installs a revenue-grade utility meter to measure monthly savings, and bills the business owner for a fraction of those savings.
At the start of the accelerator program, Allumia was just getting started with three employees. The target market included warehouses and parking garages within a bike ride of Block's house in Seattle.
"There was no doubt that Aaron and Allumia would excel quickly," said J. Thomas Ranken, President and CEO of the CleanTech Alliance. "The company came into the accelerator program with a solid product offering coupled with an experienced team focused on building a sustainable company that could gain real market traction. It's exactly the combination we're looking for in early-stage companies."
The Allumia team worked the process, excelled and took top honors in the Pacific Northwest region before eventually being named a top cleantech startup at the global competition in November 2015. What has changed since then? Plenty.
In the past year, Allumia has outgrown co-working space and has moved into its own central office located in Capitol Hill. The company has grown to seven employees with satellite offices in Los Angeles and Durham, North Carolina. It now has a portfolio of more than 45 projects nationwide and is looking to expand aggressively with plans to reach 15 employees nationwide within the year.
"Lighting retrofits were just the beginning," explained Block. "There is a substantial opportunity to deliver building envelope and HVAC retrofits to the commercial and light industrial market. We also see opportunities developing with independent schools and other small-to-midsize facilities that typical energy service companies find too small to support."

Photos of an Allumia project showing drastic benefits  from lighting retrofits that improve occupant performance,
reduce energy costs and deliver real cost savings.
Block is focusing Allumia's expansion on customer revenue and organic growth. The company's projects are backed by several lending institutions, including local institutions Craft3 and Kitsap Bank. While there isn't a current need for capital, Block doesn't rule out a strategic investor.
"Our focus is growth and expansion," explained Block. "The right strategic investor for us would open doors for new business lines and markets to help us meet those metrics."
In the meantime, Allumia is hiring. The company is working to hire a business development associate with plans to bring on additional engineering, sales and office management personnel in the near future.
"Allumia is a poster child of early-stage entrepreneurial success," said Ranken. "The company is driving clean technology adoption and market transformation while creating jobs. Aaron's drive and passion allowed that to happen, which is why he now sits on the CleanTech Alliance Board of Directors."
Want to learn more about Allumia and Aaron Block? Visit the company online at www.Allumia.com.
Interested in taking part in the CleanTech Alliance commercialization and accelerator program? Visit www.CleanTechAlliance.org and www.CascadiaCleanTech.org for more information.