Company's software platform unlocks the potential of distributed energy to transform how energy is stored, managed and optimized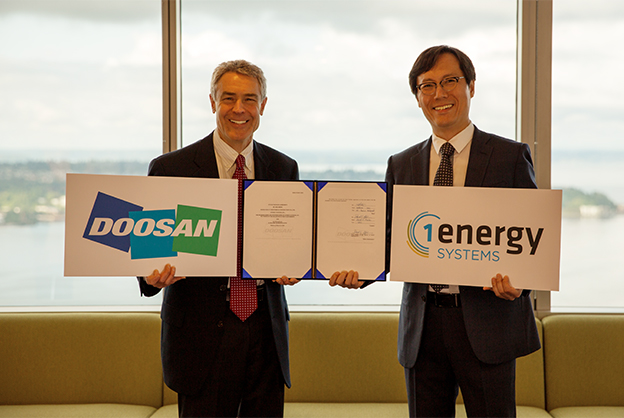 Doosan Heavy Industries & Construction (DHIC), a Korea-based global leader in power generation technologies, today announced the acquisition of Seattle-based 1Energy Systems, founded in 2011 to develop the software platform needed to automatically integrate Distributed Energy Resources (DER) into the electric power system.
By accelerating the growth of 1Energy, the acquisition furthers Doosan's expansion into technology solutions to manage and operate an increasingly digital, distributed electric grid. 1Energy will be renamed Doosan GridTech™ and will remain in Seattle, operating as a new business division of DHIC.
"Wind and solar power, energy storage and the advent of electric vehicles are changing how the grid operates," said David Kaplan, 1Energy CEO who will become COO of Doosan GridTech. "Intermittent and distributed sources of both energy demand and generation require a more dynamic, digital grid, where power flows both ways – to and from the end customer. 1Energy was founded to solve these problems, and becoming part of Doosan helps us further our mission.
"While battery storage technologies are improving all the time, they are only as good as the software that operates them," Kaplan said. "Doosan GridTech provides the advanced software – the intelligence that controls complex operations – to truly break open the opportunities of battery storage, enabling utilities to meet the challenge of managing distributed resources and capture new value streams across the grid."
Software controls are fundamental to operating electrical grids, as well as rapidly emerging microgrids. Doosan GridTech offers solutions that cut across the sector – enabling traditional grids to embrace significant change, while maintaining reliable, high-quality power flows, and ensuring localized grids can operate autonomously and provide resilience in difficult conditions.
1Energy's industry-leading technologies help utilities reap the full economic benefits of intermittent renewable energy. Its distributed software controls eliminate variability and response latency, creating the optimal decision-making system to guide how wind and solar generation are integrated with grid operations.
Today, 1Energy software is enabling utilities to move away from traditionally designed systems – where power is generated in centralized plants, flowing in one direction toward the end consumer – and to implement flexible schedules that respond to changing conditions. Controls balance supply and demand in real time, while maintaining power quality and grid frequency.
"Doosan's global customers are confronting two critical, long-term trends: Increased electrification of the world's energy systems driven by public policies to reduce carbon emissions, and the declining costs of technology, especially renewable energy and battery storage," said Ji Taik Chung, DHIC vice chairman and COO. "1Energy's technologies directly address these trends and perfectly complement Doosan's existing power generation solutions."
Today, 1Energy has roughly 30 megawatts of energy storage projects using its platform, with about half of that in the United States. Its projects – fielded live in the electric power system – help customers bridge the gap from proof-of-concept research and development into replicable, scalable solutions. 1Energy also delivers advanced power system design services that complement its technologies and help customers assess the impacts of renewable energy and storage on their systems. 1Energy personnel combine enterprise software and power system engineering skills with a strong focus on customer requirements, both current and future.
"For the past two years, Doosan searched for the best partners to help our global customers deal with the growing complexities and demands being placed on energy systems," said Daejin Choi, the new CEO of Doosan GridTech. "We chose 1Energy for its advanced technology platform, deep understanding of the challenges faced by power system operators and their substantial customer traction. In fact, we view 1Energy – backed by its superior, actionable intelligence – as a critical component of enabling the grid of the future and in alignment with Doosan's global growth trajectory."
1Energy's customers represent a broad cross-section of U.S. utilities, from public power to investor-owned, including Duke Energy, Snohomish County (Washington) Public Utility District, Puget Sound Energy (Washington) and Austin Energy (Texas).
"From its founding, 1Energy was focused on creating a more sustainable future for all," said Kaplan. "Joining forces with Doosan is a tremendous way to further our mission. As Doosan GridTech, we'll scale rapidly to deliver more field-based intelligence and continue our leadership in cross-industry efforts, such as Modular Energy Storage Architecture (MESA) open standards, to deliver more cost-effective and functional solutions on behalf of customers."
Kaplan, who was central in creating MESA, explained that standards are necessary to scale any technology. The personal computer industry grew to millions of units per year, while driving down prices, after software and hardware components were standardized. To scale energy storage, a similar maturation is needed, requiring an agreed-on industry vision and technology standards. MESA Standards will allow connections between energy storage system components, freeing utilities and vendors to grow storage through market processes.
New Doosan GridTech employees will be hired in the Seattle location, joining current 1Energy employees and Doosan personnel relocating from Korea. Daejin Choi, vice president of DHIC for nearly 7 years, will relocate to Seattle to become CEO of Doosan GridTech.
Cascadia Capital, an investment bank serving middle market clients globally, acted as the exclusive financial advisor to 1Energy Systems, Inc. on its acquisition by DHIC, and AGC Partners represented Doosan.