VOLTTRONTM demonstrations in Seattle explore potential for building efficiency and beyond.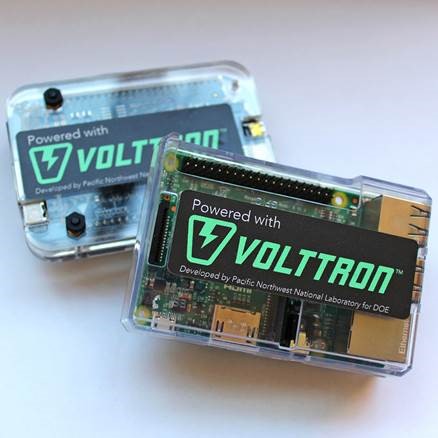 Small-scale computers—such as
the Raspberry Pi—can have
VOLTTRON™ installed as a
controller
By now, the term "smart grid" has become standard nomenclature when referring to grid modernization technologies. But for a cleaner, more reliable grid that can accommodate distributed energy sources like solar and wind power, buildings have to be smarter too. They consume 70 percent of the energy on the power grid at any time, but much of it is wasted.  
VOLTTRON, an innovative control and sensing software platform, is helping make smarter, more efficient buildings a reality, while providing flexibility for the grid. Developed by Pacific Northwest National Laboratory (PNNL), VOLTTRON enables "apps" to perform both information sensing and control actions. It is currently being used by Transformative Wave Technologies™ out of Kent, Washington, on their Catalyst rooftop HVAC retrofit device.
For responsive buildings and devices, VOLTTRON not only diagnosis and corrects problems, but also enables the exchange of information to automatically adjust energy loads using real-time demand and price signals. These dynamic actions are based on predetermined limits for human comfort and efficiency – no care and feeding required. This balancing act can serve as a shock absorber for the power grid, when renewable power supply fluctuates unexpectedly.
VOLTTRON™ is freely available as open source software that can be deployed on a variety of computer platforms.
Want to know more about VOLTTRON?
Join PNNL in Seattle on August 3, 2016, for the Connected Building Challenge demonstration. The event is free and will present a unique opportunity to network with Fortune 500 companies, cleantech startups, innovative firms, utilities and government representatives. Space is limited – register today to hold your spot.