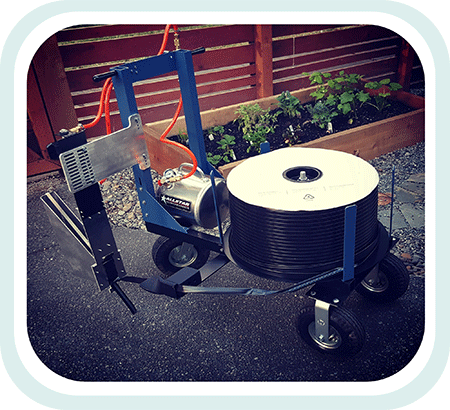 The Tape-It-Easy Tool moved from prototype
to prototype until reaching its current stage,
ready for production.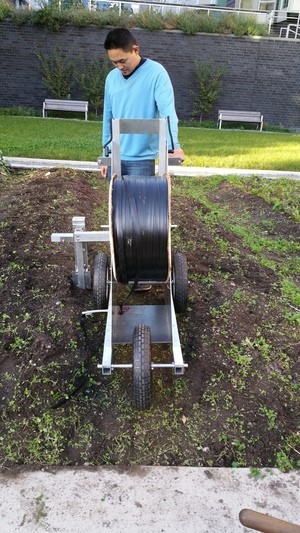 Elias Baker, VP of Engineering, tests an
early Tape-It-Easy prototype.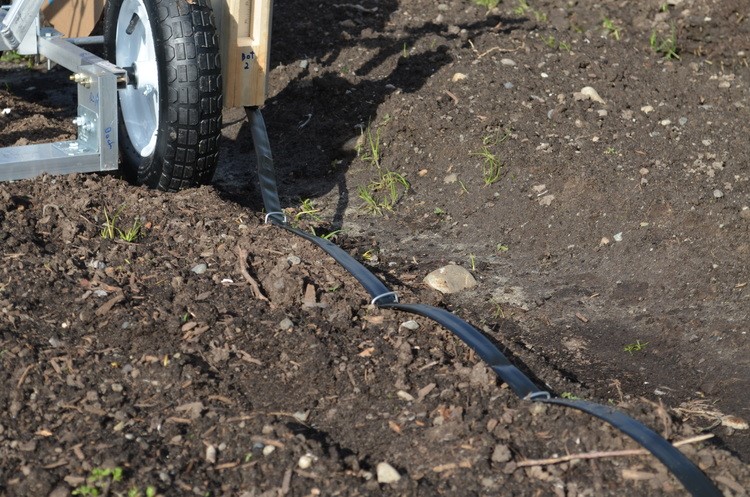 The first Tape-It-Easy Tools will be installing
drip tape within the next few months thanks to
an advanced production schedule.
Water scarcity is pushing the need to conserve one of our most precious resources. Where most see an opportunity for new technologies, Tape-It-Easy turned its eyes to an existing product. The Washington State cleantech startup is removing adoption barriers for drip tape irrigation.
Drip tape has been used for years as an efficient means of irrigating crops. How efficient? Drip tape delivers water to crops at a 95 percent efficiency rate. Most traditional sprinklers top out at 65 percent efficiency. The difference adds up to 6 trillion gallons of water each year according to Tape-It-Easy.
"Drip tape is a diamond in the rough for our current water crisis," said Allisa Song, Founder and CEO of Tape-It-Easy. "We could very easily be increasing crop yields on small farms by as much 50 percent without using any additional water resources."
Despite its many benefits, drip tape holds only nine percent of the current irrigation market – the lowest of any irrigation technology. Its major adoption stumbling block is that it is very difficult and labor-intensive to install. Tape-It-Easy has a solution.
While volunteering at the University of Washington Farm, Song grew frustrated with the excessive labor and time that went into installing drip tape by hand. She looked for a solution but found none. Seeing an opportunity, she created a tool that holds, dispenses and secures drip tape in a single, seamless process. One person can operate the tool from a standing position, eliminating the need for multiple workers to roll out the drip tape and secure it to the ground on hands and knees. The result saves time, money and water resources.
Song recruited four others and entered the Alaska Airlines Environmental Innovation Challenge where Tape-It-Easy performed well and finished as a finalist. The CleanTech Alliance invited the team, which has grown to seven, into its accelerator program, offering additional mentors, industry connections and ongoing support.
During early customer discovery interviews, Tape-It-Easy refined its product and go-to-market strategy. LCNW partnered with the company early, providing an initial angel investment and manufacturing support to speed prototype development. Seven prototypes have been developed since the Tape-It-Easy team drew up their initial product plans – each one an improvement over the other.
"We named each prototype based on weaknesses and failures," explained Song. "Woody…clunky…wheelie…the names really say it all."
To refine its go-to-market strategy, Tape-It-Easy conducted close to 50 interviews with local farmers and shops. The feedback led the team to target a three-pronged market strategy:
Direct sales for small farms less than 50 acres already using drip tape irrigation.
Distribution sales to commercial equipment rental companies like Hertz and United Rentals. (Most farms rent equipment only used once or twice per year.)
Licensing agreements with drip tape manufacturers.
Tape-It-Easy flourished throughout the accelerator program, winning the Sustainability Award in the Pacific Northwest Region and going on to compete at the global competition. The prototyping stage is now complete and the company is ready for production. The team just submitted a utility patent application in the U.S. for the Tape-It-Easy Tool. They're exploring several international markets as well, including India and Israel – arid agricultural markets where drip tape is in wider use than the U.S. India and Israel are also home to some of the largest drip tape manufacturers, making technology licensing options an attractive strategy.
Why would these markets be interested? At $700, the Tape-It-Easy tool costs a fraction of the $2,000 per acre most farms are currently paying in labor costs to install drip tape. The savings pay for the tool in its first use. The Tape-It-Easy tool also meets water conservation requirements. In California, for example, drip tape is exempt from all irrigation regulations. 
"The Tape-It-Easy Tool value proposition has always been very clear," said Song. "As a result, customer interest has been growing since the beginning."
Tape-It-Easy planned to launch in early 2017, just in time for the season's drip tape installation. Plans changed at the CleanTech Showcase in June 2016. The company presented an emerging company poster and took part in the lightning round presentations. Several local farms and orchards took interest and approached Song.
"We expected everyone to already have their drip tape installed for the 2016 season, but the CleanTech Showcase introduced us to several farmers that are still installing their drip tape and looking for an advantage," said Song. "They approached us to buy a Tape-It-Easy Tool, so we're leveraging the opportunity to speed up our product launch. It's a bit scary, but very exciting."
Tape-It-Easy plans to start production next month. LCNW is still the company's manufacturing partner, so every Tape-It-Easy tool will be manufactured in Washington State.
Tape-It-Easy doesn't plan to be a one-product company. Its team is already designing additional products and accessories to bring to market. It was recently accepted into the Jones + Foster Accelerator at the University of Washington to continue its advancement. The company continues to grow, but acknowledges that the right investment partner could help it grow smarter and faster.
"Tape-It-Easy has gone from a student project to a growing company very quickly," said Song. "That couldn't have happened without the CleanTech Alliance and its accelerator program. We wouldn't exist without it. The program gave us the confidence and know-how to start, introduced us to investors, and led us to customers."
Want to learn more about Tape-It-Easy? Visit the company online at www.Tape-It-Easy.us
Interested in taking part in the CleanTech Alliance commercialization and accelerator program? Visit www.CleanTechAlliance.org and www.CascadiaCleanTech.org for more information.