Developing clean technologies is about more than the health of the planet, according to University of Washington President Ana Mari Cauce.
"A clean environment is critical to global health," Cauce said at the December CleanTech Breakfast.
Cauce outlined the important role UW scientists, faculty and students play in developing the solutions and workforce needed for a sustainable, livable future. The monthly breakfast series from the CleanTech Alliance is sponsored by Perkins Coie. The UW also received the 2017 CleanTech Achievement Award for the University's significant contributions to the sector.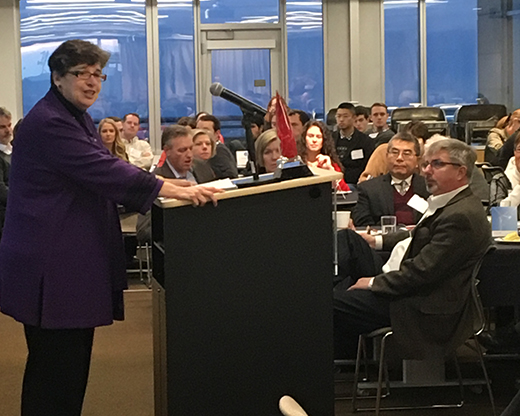 Supporting science for a healthier future
One of the main components of the Population Health Initiative Cauce launched in 2016 is environmental resilience. Physical, mental and economic health all depend on a clean environment. Since the most marginalized often also live in the most polluted areas, improving the health of the environment is also critical to an equitable future. The innovation and workforce training taking place at the Clean Energy Institute (CEI) is one way UW is contributing to that future.
"CEI is accelerating the pace of innovation and technology transfer in this space," Cauce said, "as well as training the next generation of innovators who will take risks in developing the future of energy."
The students in CEI are also engaged in science communication and public policy. In an age where the public is questioning the value of higher education and science, Cauce said helping scientists communicate the impact of their work is critically important. CEI students learn to apply their work to policy by participating in events such as the upcoming CleanTech Day in Olympia. In addition, both CEI students and faculty are engaged in community outreach that brings them to K-12 classrooms and industry trade shows. Engaging with the public allows them to foster excitement for science among young students, and bring their research beyond the edges of campus into the public marketplace.
Overcoming barriers to public-private partnerships
Public-private partnerships required to bring university innovation to market have their challenges, but Cauce outlined several ways UW is working to make those collaborations smoother.
"We need to cultivate innovation by creating and supporting the conditions needed for it to occur," Cauce said.
The University is reviewing their criteria for faculty tenure to possibly acknowledge and reward patent production as well as publication. Traditionally, the tenure system only counts publication towards career advancement, which can often discourage faculty from spending time on technology development. CoMotion and new facilities such as the Washingotn Clean Energy Testbeds aim to make it easier for industry to engage with the University. At the Testbeds, industry and startup companies can hire faculty to test prototypes. CoMotion and Startup Hall offer places for faculty, students and the broader community to develop innovation into patentable products and new companies.
These resources and expertise make UW a convener between federal agencies, international governments, and industries looking to develop the future of energy, health and more. In addition to inspiring innovation, that convening power draws talent to the region.
Attracting talent and developing a diverse workforce  
Why swim with sharks when you can play with dolphins?
Those words have been used by UW professors to persuade their Harvard colleagues to make the move west – to an environment which sees collaboration as a competitive advantage.
"One of the reasons we can hire absolutely fantastic faculty is low barriers to collaborations with innovative research institutions and private companies," Cauce said.
In addition to high-quality faculty, the UW attracts an ever-diversifying pool of quality students. She spoke of programs such as the Husky Promise, which covers tuition for Washington State students from varied economic backgrounds. The University has increased acceptance of local students, and welcomed its most diverse freshman class this year.
In addition, Cauce in particular is committed to providing more opportunities for students historically underrepresented at universities. Thirty-seven percent of the incoming freshman class were the first in their family to go to college. The University implements programs to encourage and support students underrepresented in the technology workforce towards STEM education. In addition to programs on the University side, Cauce also encourages industry to rethink how it positions itself to potential talent.
"We traditionally advertise the technology industry as primarily a career where you can make the most money," Cauce said. "That is not necessarily an appealing driver for women to pursue the field. Part of making the industry more accessible is reframing the impact of these careers."
As she looks to the future of workforce development, Cauce also aims to build stronger relationships with community and technical colleges. In the "playlist generation" of young people who want to customize many of their experiences, it is important to change the structure of education as well. Partnerships across different types of education – from technical colleges to apprenticeships – as well as support of industry workforce training could be the future of the modern university.
Watch the video of her full talk and Q&A below, and keep up with Cauce on Twitter by following @amcauce, and University of Washington by visiting uw.edu.
Next breakfast –January 10
Make sure to reserve your seat at the next breakfast, which features Elliot Mainzer, Administrator of the Bonneville Power Administration. You can also still buy a series pass for the remaining five breakfasts! The series is also available through webcast for our members throughout the northwest. Follow the conversation on Twitter using #CleanTechBacon.