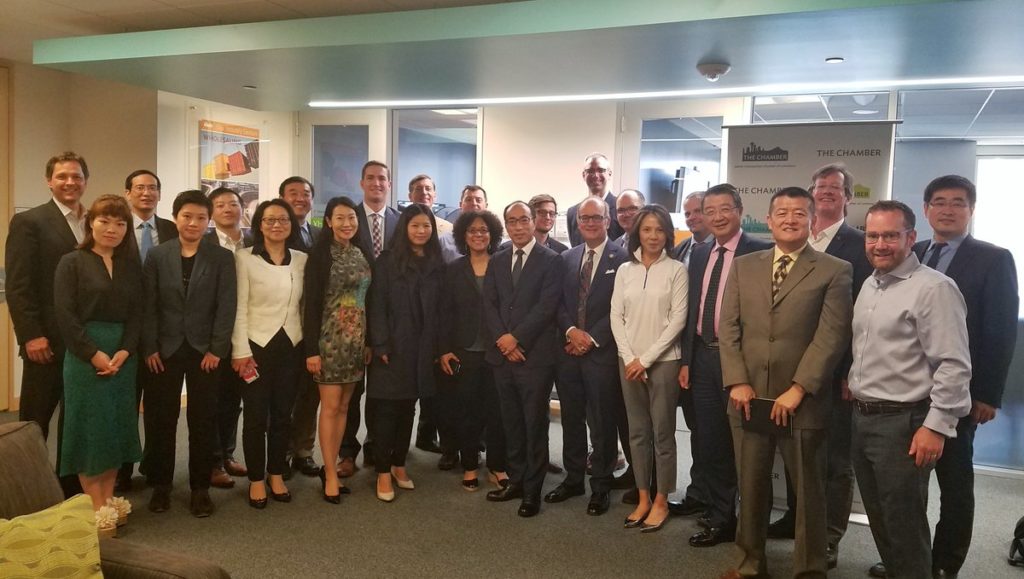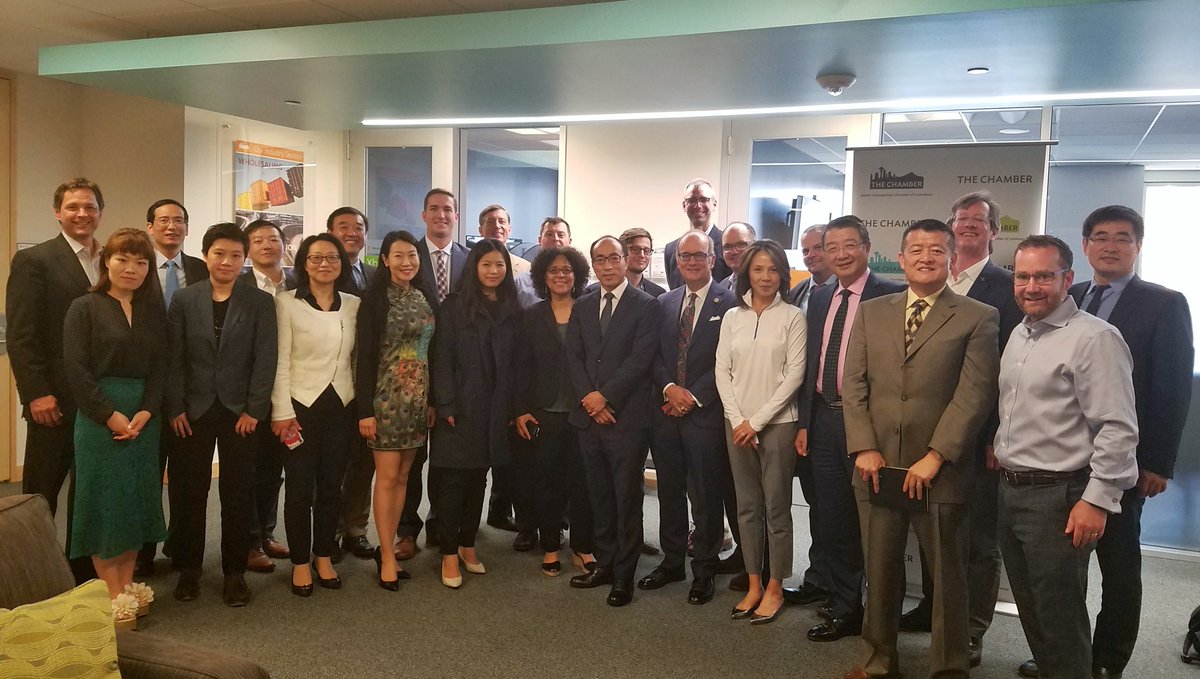 (July 3, 2018-Seattle, WA)  Background:  The Chinese Consulate in San Francisco brought a delegation of Chinese energy companies to Seattle in early July looking for meetings with companies that focus on renewable energy.  On July 3, the delegation met with board members of the CleanTech Alliance.
CleanTech Alliance member companies are encouraged by the Chinese Consulate to seek contact with these and other Chinese companies.  In many cases, you can find direct contact information below.  In cases where contact information is not provided, you are encouraged to contact Yihang Yang and Lyu Dun in the San Francisco Consulate to facilitate interactions.
The Consulate had announced that ".. our office would lead a delegation of Chinese companies to visit Seattle to explore the opportunities of renewable energy cooperation. The delegation companies are significant renewable participants in China some of whom are top leaders in the industries. The delegation companies are covering a serial supply chain including investment, construction, financing, operation and equipment trading, which will provide potential integrated solution with local partners for renewable development to produce better, accessible and economic clean energy for the local communities. We hope through this visit the Chinese companies can have a better understanding of the state/city policy, establish the contact with local partners, and find the investment and cooperation opportunities in the areas of wind power, solar power, energy storage, carbon capture, hydrogen fuel cell and so on."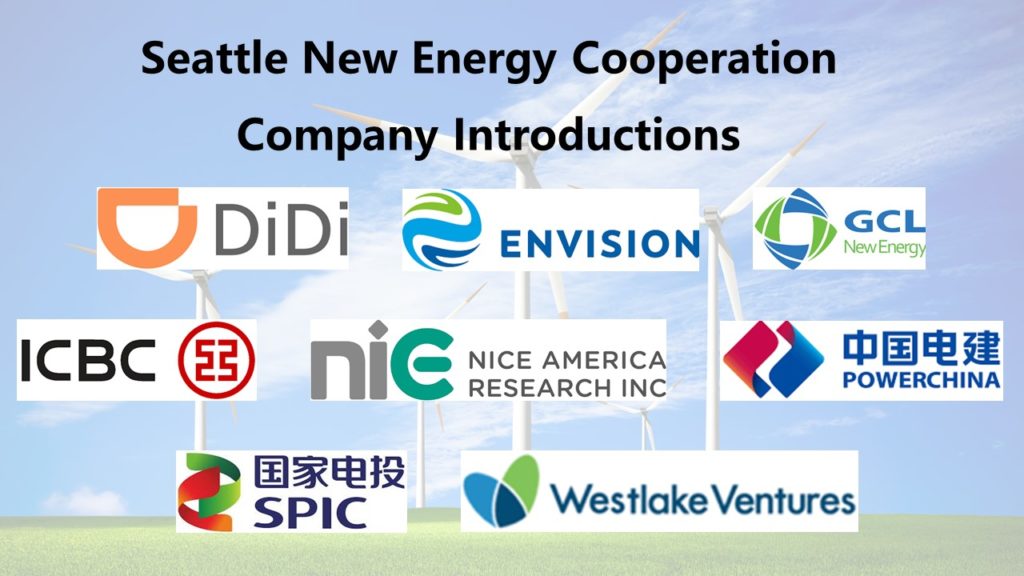 Participants from China included:
Yihang Yang, Economic & Commercial Counselor, Consulate General of the People's Republic of China. yangyihang@fdi.gov.cn.  (415) 852-5971/M:(415) 341-3038
Lyu Dun, Consul, Consulate General of the People's Republic of China. lvdun@mofcom.gov.cn.  (628) 235-8770 
Steven Wang, Vice President, DiDi Research America, LLC. wangxin@didichuxing.com.  647.4873
Matthew Hiser, Strategic Development Manager, Envision Energy.
Liang Tang, Deputy BD Director, Envision Energy.
Songyu He, Senior Director, Investment Department, GCL New Energy, Inc. hesongyu@gclnewenergy.com.  (415) 362-2601 x214/M:(415) 954-2931
Cathy Zhou, Senior Vice President and Head of Seattle Business Center, Industrial and Commercial Bank of China (USA) NA. zhouc@icbc-us.com.  (206) 926-8041/M:(206) 696-3218
Selina Lin, General Counsel, Nice America Research Inc. lin@nicenergy.com.  (650) 285-0863/M:(650) 933-8085
Jihong Cheng, General Manager. Nice America Research Inc.
Lei Wang General Manager PowerChina (USA).
Yu Dong Investment Manager PowerChina (USA).
Weipeng He, Managing Director, State Power Investment Corporation/State Nuclear Power Technology Corporation. heweipeng@snptc.com.cn.  (724) 779-6455/M:(724) 900-3100
Si Xinlin, Manager, USA Office, State Power Investment Corporation/State Nuclear Power Technology Corporation.
Baylor Wei, General Partner, Yuhang Capital. wei@snackoo.com.  (415) 312-4437
Tom Zhao, General Partner, Yuhang Capital
Yi Zhao, Finance and Investment Committee Chairman, Zhejiang Chamber of Commerce USA. yzhao@westlakevch.com.  (650) 542-6870
State Power Investment Corporation (SPIC)
State Power Investment Corporation (SPIC) is one of China's top four power generators, an integrated energy group with power as its core. It has a total installed capacity of 126GW, including 74GW of thermal power, 22GW of hydropower, 4.5GW of nuclear power, 11.6GW of solar power and 13.7GW of wind power, with clean energy accounting for 45% of the total. SPIC has the greatest installed capacity of solar power in the world. SPIC also owns coal production capacity of 78.6 million tons per year (t/y), aluminum production capacity of 2.5 million t/y and railway transportation line of627km.  SPIC has been a Fortune Global 500 company for five consecutive years, ranking 368th in 2017. SPIC has a registered capital of USD 6.49 billion, total assets of USD 126.3 billion and employees of 140,000. SPIC holds seven listed companies, two of which are traded in Hong Kong while five are traded in mainland China.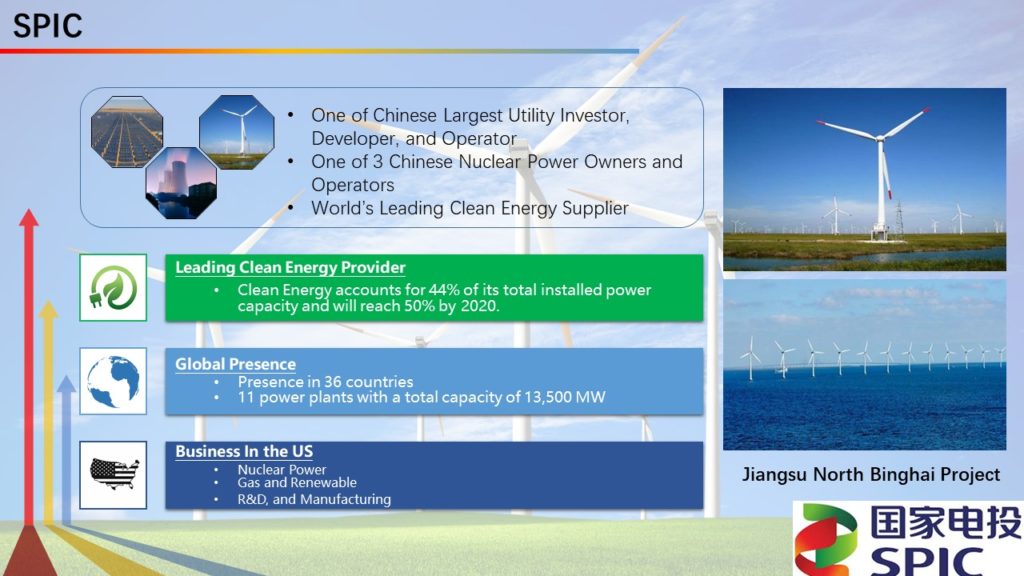 As one of China's three nuclear power developers and operators, SPIC owns a number of nuclear power plants (NPPs) under construction and in operation.  SPIC has been cooperating with Westinghouse Electric Company in building four AP1000 nuclear power plants in China since 2007. SPIC was authorized by US federal government to receive AP1000 technology from Westinghouse.  Over the past ten years, SPIC has built very good business relationship with US companies and government agencies.
SPIC is committed to global businesses. In 2015, SPIC acquired the Australia based Pacific Hydro, a world leading company in renewable energy with total asset of 900 MW. In 2017, SPIC won the bid for 30-year franchise over Sao Simao Hydropower Station in Brazil. SPIC is now present in 36 countries including Japan, Australia, Malta, India, Turkey, South Africa, Pakistan, Brazil and Myanmar, with businesses covering power project investment, technical cooperation, EPC, etc. SPIC has 1,260 MW of controllable overseas projects in operation and 10.05 GW under construction. SPIC's overseas assets are expected to reach 8GW by 2020. In 2016, SPIC obtained A2, A and A- from Moody's, Fitch Ratings and Standard & Poor's respectively.  SPIC established a subsidiary in Pennsylvania in 2009 and is currently actively engaged in developing renewable energy in North America. The areas in which SPIC would like to cooperate with American partners are wind power, solar power, geothermal and energy storage.
NICE America Research, Inc.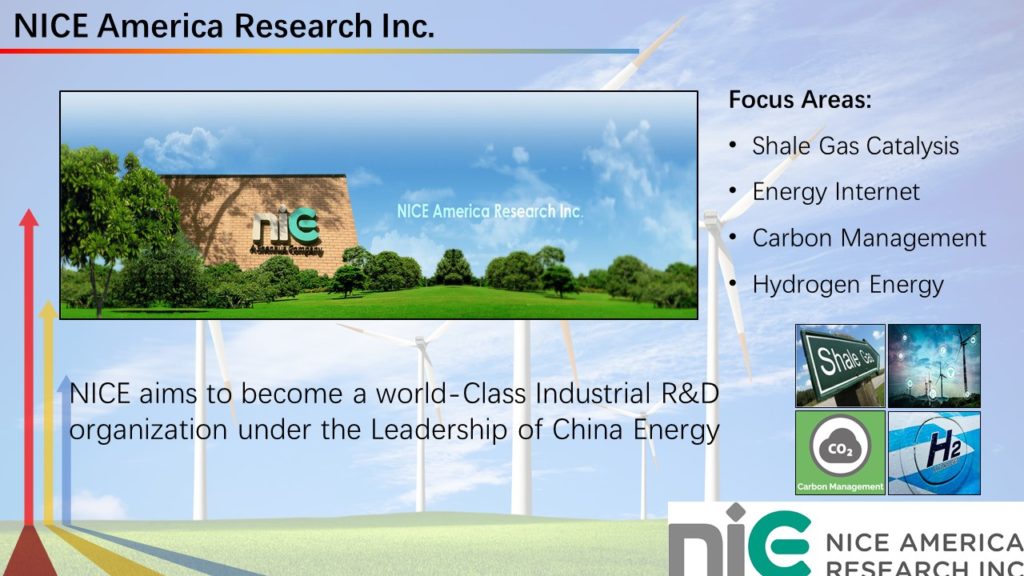 NICE America Research, Inc. as established in October 2016 in the heart of Silicon Valley in California and is a subsidiary of National Institute of Clean-and-low-carbon Energy (NICE) in Beijing, China, which is the research arm of China Energy Investment Corporation (China Energy).
NICE aims to become a world-Class Industrial R&D organization under the Leadership of China Energy by 1) supporting current businesses to enhance competitive advantages, 2) creating adjacencies to drive sustainable growth, and 3) developing advanced technologies to create new strategically important new businesses.
NICE America is integrating global innovation resources including world class talents and technologies and conduct ground breaking research and development in such focus areas as Shale Gas Catalysis, Energy Internet, Hydrogen Energy, and Carbon Management. It represents China Energy's dedication to clean energy technology development and deployment in China, US, and other international markets. NICE America aims to 1) have a core R&D team in place with clearly defined technical directions in the short term, 2) have leading experts in specific areas with targeted technologies ready for commercialization in the mid-term, and 3) become an established research institute with commercialized technologies and recognized reputation in clean energy space in the long term.
Contact:
NICE America Research, Inc.
2091 Stierlin Ct.
Mountain View, CA 94043
Main: 650-772-5050; Fax: 650-772-5051
Email: niceamerica@nicenergy.com
Website: http://www.nicenergy.com/en/html/SubBranch/NorthAmerica/aboutus/
 Collaboration opportunities:
Battery Energy Storage System (BESS) for Commercial & Industrial (C&I) and grid applications.
Liquid hydrogen based fueling station system.
Advanced carbon capture technologies for power plants.
Solid Oxide Fuel Cells (SOFCs) for distributed energy applications and Integrated Gasification Fuel Cell (IGFC) system for zero carbon large scale power generation.
Building Integrated Photovoltaic (BIPV) applications using CIGS thin film PV technology.
Zero discharge industrial waste water treatment.
Envision
Envision is a leading digital energy company who owns the world's leading Intelligent IoT platform, EnOS™, currently managing 100GW of energy assets by connecting over 50 million sensors and smart devices globally.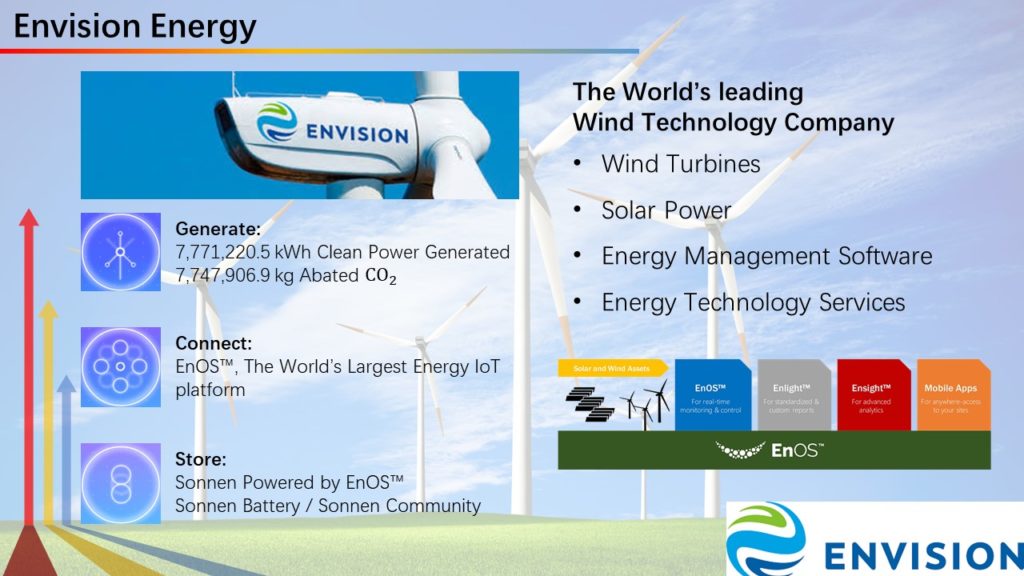 Founded in 2007, the company's heritage is in the wind sector and currently Envision has become one of the world's leading wind technology companies. Headquartered in Shanghai, Envision has regional offices across Asia, Europe, North and South Americas and has established global R&D and engineering centers in Singapore, Denmark, Germany and the United States.
Envision, with the mission "to solve the challenges for a sustainable future" is building a comprehensive global energy IoT and smart city ecosystem. The company is committed to creating a beautiful world where everyone has access to clean, secure and affordable energy.
Smart Wind Turbines:  Envision turbines are precisely engineered for performance and reliability. Sensor built-in turbines optimize wind farm performance and financial return by means of machine learning. The 2MW, 3MW, and 4MW turbine platforms are dedicatedly designed for a full range of wind speeds onshore and offshore applications, with now 23 GW sold and 10.8 GW installed in total. Envision is the first in the industry to develop "smart turbine" with its exclusive core technology of smart control, advanced measurement method, expert data analysis system, active performance control and reliability-based deterministic turbines. Through a "software-defined turbine" approach, Envision has surpassed the technological limits of traditional wind turbines, and increased the efficiency of wind power generation by 15%.
Envision EnOS™ clients include Hong Kong's largest utility CLP, North America's largest independent renewable energy operator PATTERN Energy, the leading renewable energy developer CGN, and the world's leading provider of total solar solutions Trina Solar. EnOS™ platform currently provides solutions and service for 6 sectors, which includes wind, solar, traditional power plant, I&C parks and distribution network, charging network, and energy storage.
Smart Wind Farms:  Based on Envision's deep technology accumulation in the field of wind power and EnOS™ energy IoT platform, Envision innovates and creates smart wind farm products. It provides full life-cycle management functions covering all wind farm requirements. It includes wind farm smart siting, wind resource assessment, wind farm engineering design, wind farm asset operation, and establishing a verification system of closed-loop analysis of wind farm data throughout the life cycle to support customers' continuous optimization of all business stages and achieve wind farm investment risk accurate measurement and avoidance, constantly improving and promoting the rate of return on wind farm investment. The Guangling smart wind farm, which was independently developed by Envision, had more than 3400 utilization hours in 2016, ranked in Shanxi Province.
Smart Solar Software:  Envision smart solar software is based on the EnOS™ platform and provides full life-cycle management and risk management, including smart siting, system design & optimization, engineering management, asset operation and maintenance, asset transaction, etc. Apollo Cloud™ is the largest distributed generation management platform in China. 'Apollo Rating' has rated and evaluated more than 6GW solar assets, including 3GW distributed generation. Based on 'Apollo Rating', advanced technology, and software products, Apollo Solar Platform has developed, optimized, man- aged and traded more than 8GW of photovoltaic power assets for financial institutions and power station investors.
Global Business:  Till now, Envision has explored the business in almost all the continents globally. In Latin American countries including Chile, Mexico and Argentina, there are more than 1GW pipelines under development, among which 21MW turbines in operation, 70MW self-owned under construction, and 90MW + 185MW are ready to build. Envision has acquired local developers in Mexico and Argentina as platform companies to further extend new opportunities in Latin area.  Same strategy in France, Envision are now possessing over 500MW WF portfolio with FiP of 72-82 €/MWh secured, and all these projects are in different phases, some in construction and the others RTB. In India, Envision established its own assembling factory to meet the WTG supply need there, considering 198MW order secured and 250MW more undergoing by end of 2017.
 Expectation from the visit/meeting
Establish relationship with the Energy department in different states
Exchange the energy policy and opportunities in US
Potential direction of cooperation: Software business, distributed energy system, EnOS and turbine business
Power Construction Corporation of China (POWERCHINA)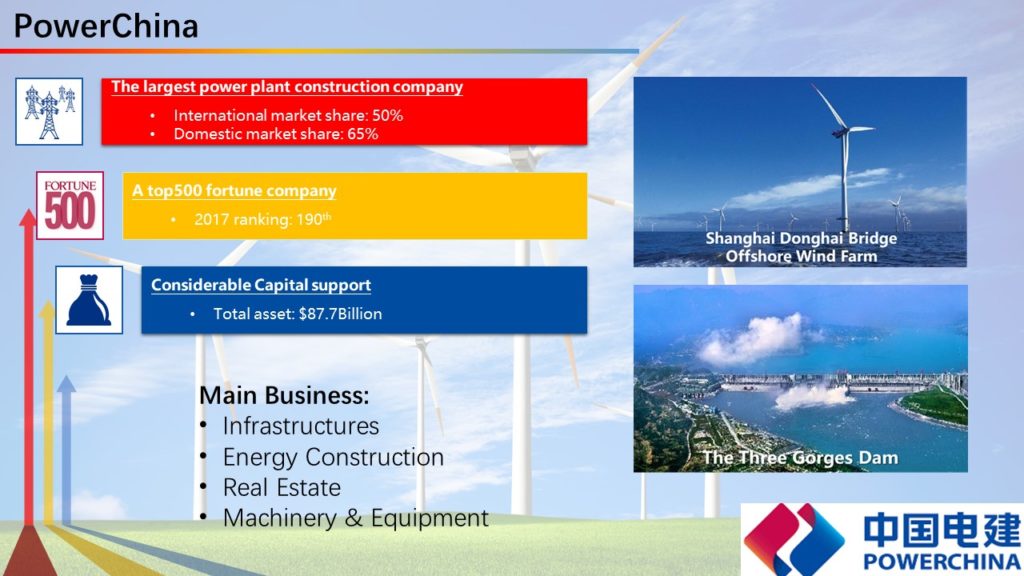 PowerChina is a wholly state-owned company which was set up in September 2011 with the approval of the State Council, is constituted by a series of enterprises specializing in electric power survey and design, engineering and equipment manufacturing under the management of SINOHYDRO Group Limited, HYDROCHINA Corporation, State Grid Corporation of China and China Southern Power Grid Company Limited, which are spread across 14 provincial/municipal/regional of China.
As an integrated construction group, POWERCHINA provides services in fields of water conservancy and hydropower engineering, investment and financing in infrastructure construction, planning and engineering design, engineering construction, equipment manufacturing and operations management. The major businesses are within the scope of energy power, construction engineering (including survey, planning, design and project contracting), water ecological environmental governance, other resources exploitation and management, real estate development and management, equipment manufacturing and leasing. Furthermore, POWERCHINA has been authorized by relevant state ministries to serve as the planner and investigator in the development of clean energy and new energy sources. POWERCHINA ranks the top of the world in electric power construction (planning, design and construction) by virtue of its great capacity and performances.
In 2017, POWERCHINA ranked the 190th among Fortune 500 enterprises, the 42nd among top 500 enterprises of China and the 22nd among 100 multinational corporations in China. Besides, it placed the 5th of the Top 250 Global Contractors and the 2nd of the Top 150 Global Design Firms according to ENR. Centering on water conservancy and electric power construction, POWERCHINA has formed into a diversified structure of Large Civil Engineering and Large Construction, involving in a range of domains, like Smart City construction, rail transit projects, municipal engineering, housing building, water ecological and environmental governance projects and so on.
As the world's largest power construction enterprise with the most integrated industrial chain, and committed to the construction of global energy source and infrastructures, POWERCHINA follows the "Belt and Road" Initiative and proactively participated in a series of important projects, such as Melaka gateway deep water dwarf project at Malaysia, Pakistan Qasim Coal-Fired Power Plant, China-Laos railway, Jakarta-Bandung high speed railway, etc. Such remarkable social contributions have gained POWERCHINA reputation.
Being professional in planning and design, engineering construction and investment operation of hydraulic and hydropower projects, POWERCHINA further collectivize its running pattern, internationalize its development, diversify its operating, specialize its services and informationize its management, seeking to become the most competitive comprehensive construction group all over the world.
Golden Concord Group Limited ("GCL") is an integrated energy service provider that specializes in clean energy, new energy, with diversified development of related industries.
The businesses of GCL cover Power, PV, Oil & Gas, Green Smart City, and Finance. Meantime, it proactively deploys semiconductor material, power battery, new energy vehicle and Energy Internet. Holding several listed companies including GCL-Poly, GCL System Integration and GCL New Energy, etc., GCL' s footprints have been across 31 provinces (cities and autonomous regions), Hong Kong, and Taiwan in China, as well as Africa, North America, Southeast Asia and Europe.
As the world-leading PV material manufacturer and the prominent domestic non-public electric power enterprise, GCL has achieved the second position of installed capacity of PV power station in the world. Being the leading new energy enterprise among Top 500 Chinese enterprises in 2017, GCL has been ranking the third among Top 500 global new energy enterprises in 2017.
Cooperation Proposal:  Solar power plant and energy storage project development and investment; Solar module and system solution sales; Solar & clean energy technology and manufacturing investment.
Industrial and Commercial Bank of China Limited ("ICBC")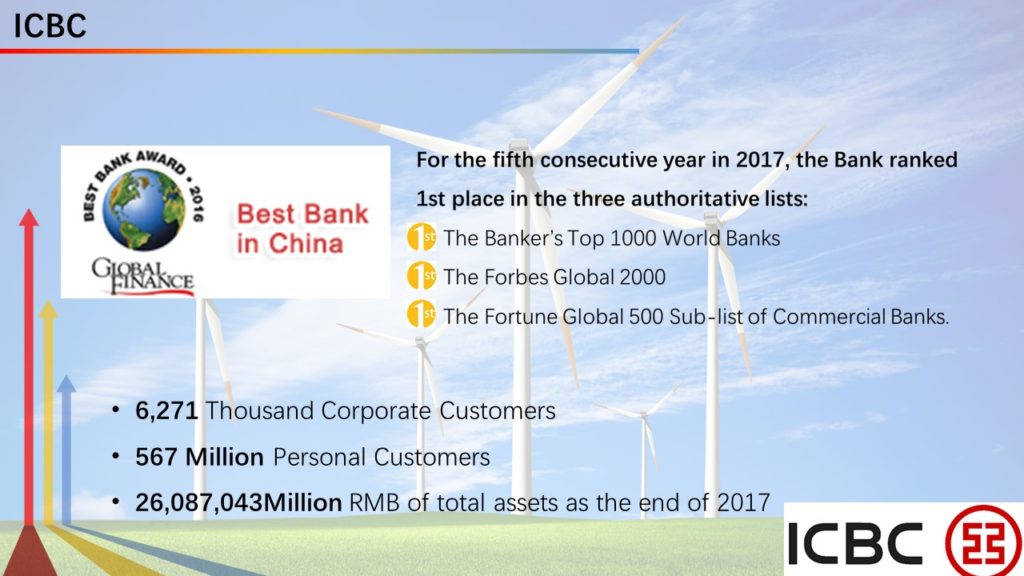 ICBC is listed on both SSE and SEHK, is the largest bank in the world by total assets [SNL data, as of 2014.]. It has its presence in six continents, and its overseas network has expanded to more than 40 countries and regions. For several times, ICBC was ranked in the first place of the largest public enterprise in the world among the Global 2000 listed by the US magazine Forbes.
The Industrial and Commercial Bank of China (USA) NA ("ICBC USA" or the "Bank") is the U.S. subsidiary of ICBC with ICBC as the Controlling Shareholder owning 80% shares, East Asia Holding Company, Inc. owning the other 20%. ICBC USA is a national bank chartered by the Office of the Comptroller of the Currency. It operates thirteen branches in New York and California, with three in New York, five in San Francisco Bay area in northern California and five in greater Los Angeles area in southern California. There are two business offices in Seattle and Huston.
In the United States, including the Bank ICBC has four institutions providing a full suite financial services to consumer, business, and financial institution customers.  ICBC New York Branch engages in wholesale deposit-taking, lending, and other banking services primarily for business clients. The branch also serves as the U.S. dollar clearing center for ICBC. ICBC Financial Services provides primarily fixed-income securities clearing and financing services to institutional clients. In 2015, ICBC purchased 60% controlling interest in Standard Bank Plc and formed ICBC Standard New York, which provides trading service of securities, commodities, and foreign exchange.
Yuhang Capital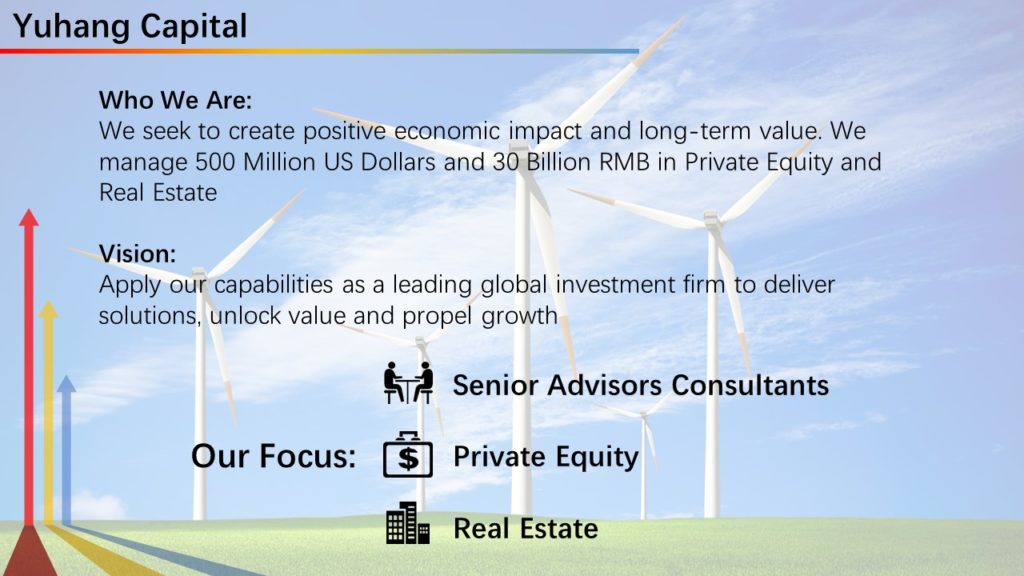 Our investments are designed to preserve and grow our limited partners' capital, provide financial security for millions of retirees, sovereign wealth funds, and other institutional and individual investors, and contribute to overall economic growth. We managed $500 Million and RMB 30 Billion in Private equity and real estate. This firm was founded by Baylor Wei and Tom Zhao.
We seek to create positive economic impact and long-term value for our investors, the companies we invest in, and the communities in which we work. We do this by using extraordinary people and flexible capital to help companies solve problems.
Our Vision:  At Yuhang Capital. We apply our capabilities as a leading global investment firm to deliver solutions, unlock value and propel growth. The capital we deploy on behalf of our investors fuels the development of businesses and communities. The investments we make are the wellsprings of future opportunity.
Leadership:  Over the years, we have been fortunate to attract some of the most talented professionals in our industry. Our people are our most valuable asset – they are skilled problem solvers that believe challenges can be opportunities.
Senior Advisors Consultants:  The advisors and consultants listed below are independent professionals that work with Yuhang Capital and our portfolio companies to provide unique global perspectives, strong regional knowledge and access to a wealth of relationships that enhance our ability to serve our clients and capture opportunities around the world. While not employees, personnel, partners or otherwise affiliates of Yuhang Capital, these professionals have a strong and strategic professional connection with Yuhang Capital.  Our network is comprised of highly respected individuals who possess a wealth of experience in both the private and public sectors. These advisors work with Yuhang Capital professionals on generating new business, advising on transactions and giving business-related expertise.
Private Equity:  Our investments span a wide range of industries around the world in established and growth-oriented businesses alike. Playing a vital role in helping companies realize their growth potential, we uncover value by identifying great companies and enhancing their performance by providing patient capital and operating support to strong management teams. Our approach helps our portfolio companies grow core businesses, launch new initiatives, make transformative acquisitions and upgrade technologies and systems to support their long-term strategy.  We provide more than just capital. We seek to make the companies we invest in stronger through a bottoms-up strategy of transformation. Crucially, we bring the expertise of our Portfolio Operations Group to provide strategic guidance on a variety of operational improvements, including revenue growth, procurement, leadership development, lean process and IT optimization, energy sustainability, and employee health care.
Real Estate:  We are the real estate private equity firm in the world today with $200 Million of assets under management. We operate around the globe with investments and people in North America and Asia We seek to generate attractive risk-adjusted returns for our investors across cycles and over the long term. The Yuhang Capital Real Estate platform encompasses investments across the risk spectrum from opportunistic to core+ to debt.