By John Stang, Crosscut, Tuesday, January 15, 2019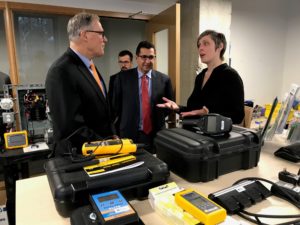 Gov. Jay Inslee has carved himself a niche as "the climate guy." And that persona dominated the governor's State of the State speech to the Legislature on Tuesday.
He told legislators that climate change is the biggest and most immediate threat to Washington.
"In just the past few years, our state experienced record-high temperatures, record-low snowpack in some locations, higher ocean temperatures and high acidity in our waters," Inslee said. He added, "Scientists say if we don't act now, this will become the norm — a permanent degradation of what we love, our magnificent state. I don't know of any other issue that touches the heart of things so many of us care about: our jobs, our health, our safety and our children's future. But this doesn't have to be our future. Science affirms the necessity of action — this day.
"This is the eleventh hour, but it is Washington's hour to shine."