Source: Lindsay McCormick, CleanTech Alliance, Feb 19, 2020
The CleanTech Alliance brought a 20-person delegation to GLOBE 2020 in Vancouver, BC this week. The delegation spent three days at North America's longest-running sustainable business summit and innovation expo making connections and building partnerships.
Over the course of three days, members of the delegation had productive conversations with other attendees, expanded business prospects with Canadian companies and investors, built partnerships that strengthened relations with international businesses, and gained potential new member organizations.
Four members of our delegation gave presentations on their work including Tom Ranken, who gave a presentation on the CleanTech Alliance, Clean Energy Fund, Accelerator, and general energy and climate change facts.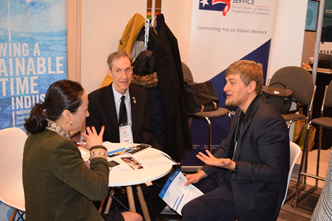 After Tom, Rachelle Ames spoke in more detail about the CleanTech Alliance's Accelerator program, followed by Lee Otis, who spoke about the investing potential of her company, E8. Lastly, Brian Young from the Washington Department of Commerce spoke about the steps that Washington is taking to reduce emissions and become a champion on combating climate change.
There were a number of panels and speakers and a plethora of networking opportunities that members of our delegation took advantage of.
Overall, GLOBE 2020 was a huge success and we're pleased that we could help facilitate opportunities for our members to make the connections they need to thrive.