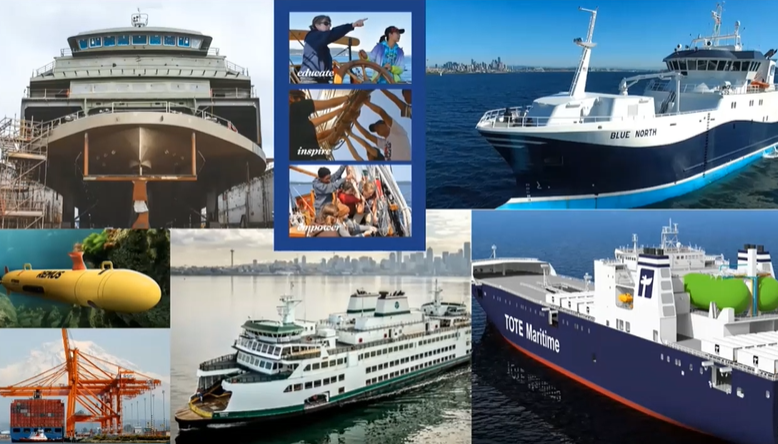 "Washington is clearly leading our country when it comes to maritime innovation," said Olivier Cadet, the President of Kongsberg Maritime Inc.
On Wednesday, April 8, the CleanTech Alliance hosted its first virtual breakfast featuring a panel that talked about sustainability, innovation, and clean technology in the maritime sector.
Joshua Berger, the Governor's Maritime Sector Lead at the Washington State Department of Commerce moderated the panel that had an audience of 98 participants. Joshua talked about how the Blue Economy is global due to the interconnectivity of our oceans and he talked about some of the initiatives of Maritime Blue including hosting forums, workforce training, and studying the capital landscape to help startups and other businesses secure funding.
Allan Grant, the Executive Vice President of Lavle spoke next about hybrid ships and how they're improving the range and battery capacity of water vessels. "We're changing up the recipe [of lithium batteries]," said Grant, and went on to talk about how they're changing the separators in lithium batteries to increase energy density and improve battery life at their R and D facility in Burlington, Washington.
Finally, Olivier Cadet from Kongsberg Maritime Inc. spoke about using technology from other areas such as defense and applying it to the maritime sector to improve sustainability. Kongsberg is currently working on creating autonomous ships and Olivier talked about how they're using machine learning on ship data to help the vessels plan routes and find alternative routes if it detects any obstacles in the water.
The virtual breakfast wrapped up with a Q and A session where participants had the chance to ask Joshua, Allan, and Olivier their burning questions about sustainability in the maritime ecosystem.
Overall, the first CleanTech Alliance Virtual Breakfast sponsored by Perkins Coie was a huge success and we hope that even more people can join us for our next virtual breakfast on May 13.
To view the presenters' slides, click here for Joshua's and here for Allan's and for a recording of the of the panel, click here.