Photo Credit: Sarah Sanford, NCW Tech Alliance 
On Wednesday, Nov. 9, nearly 800 high school students and their teachers gathered for the first Eastern Washington Computer Science Fair at the Town Toyota Center in Wenatchee. This was the first time an event like this was held in Eastern Washington and the first such event in 3 years. Students traveled from all across eastern Washington from 26 school districts.  
According to Code.org, computing occupations are the #1 source of all new wages in the U.S. and make up over half of all projected new jobs in STEM fields, making Computer Science one of the most in-demand college degrees. Computer science drives job growth and innovation throughout our economy and society, and computing is used all around us and in virtually every field. For this reason, the Washington Legislature passed SHB 5088 in 2019, to require all comprehensive high schools to offer an elective computer science course for high school students by the fall of 2022. That makes this school year the first time many schools across the state are seeing computer science on their high school schedules.
To help rural students and educators connect this new school requirement to the growing industry needs, the Apple STEM Network recruited 87 exhibitors and partners from across the state to organize an event that would create a memorable experience for students. The Eastern Washington CS Fair had a conference feel for students with a special keynote welcome from Dr. Bish Paul, of Snap, followed by breakout sessions, interactive experiences, and hands-on learning opportunities with more than 50 exhibitors made up of local and statewide technology companies, training programs, community-based organizations and colleges.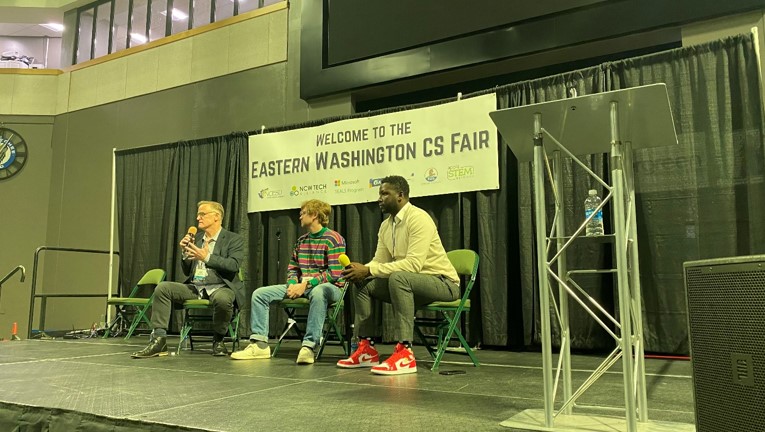 Local Executive Leaders like Kirk Hudson of the Chelan County PUD, Dr. Felipe Gutierrez of Columbia Valley Community Health, Drew Zabrocki of Semios, and Jenny Rojanasthien of the NCW Tech Alliance took the stage to speak directly with students about the need for technology and computing skills in the North Central Washington economy.
Gus Williams of the Clean Tech Alliance hosted a panel session featuring Local entrepreneur and founder, Larry LaMotte of RecapturIT and Daniel Merz of Concentrix that highlighted the ways that scientists are using computer science (machine learning, artificial intelligence, algorithms, data analytics) to reduce global carbon emissions and generate sources of renewable energy.
Students heard from breakout panels about Women in Technology, Cybersecurity, Careers in Networking and Data Centers, and the Tech Professional's Mindset. The Pacific Northwest National Lab, Washington State University, Microsoft Make Code, and Ignite Worldwide hosted hands-on workshops for students.
"It is so important for students to hear about the ways that the things they are learning in these classes and the skills that they develop, are needed in the workforce today," explained Dr. Sue Kane, Director of STEM Initiatives & Strategic Partnerships for the North Central Educational Services District and Co-Director of the Apple STEM Network. "We wanted students to see a wide array of opportunities for them and help them to see that computer science and technology skills can take them anywhere they want to go and power their dreams for the future."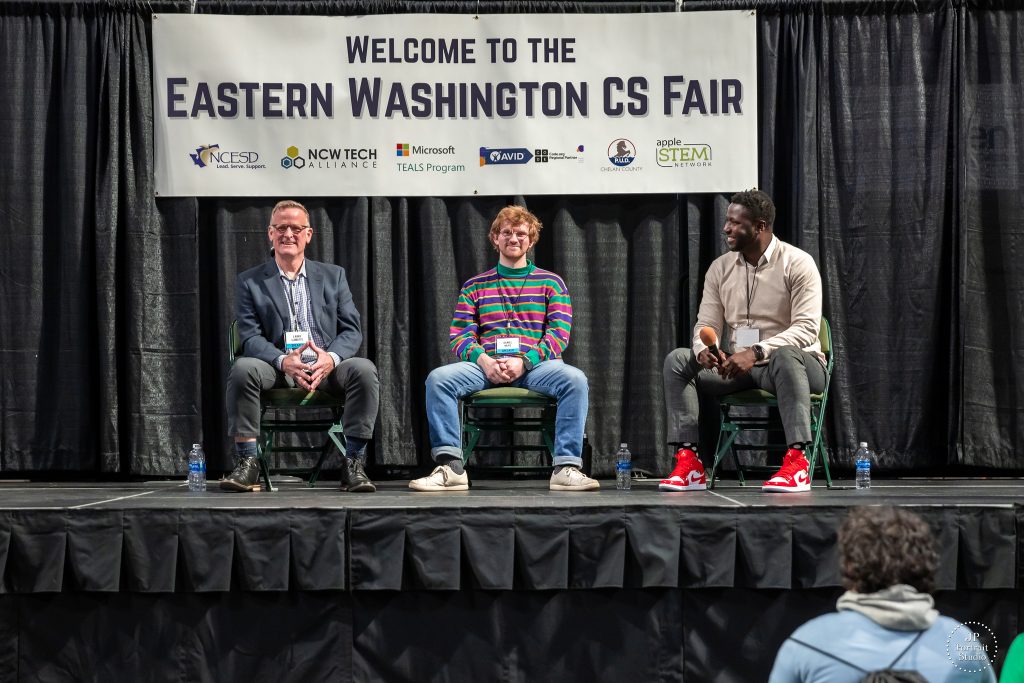 The event was sponsored in partnership by the Apple STEM Network, NCW Tech Alliance, the North Central Educational Services District, Microsoft Philanthropies, Microsoft TEALS, Code.org + AVID, and the Chelan County PUD.
To learn more about NCESD and event please visit NCESD