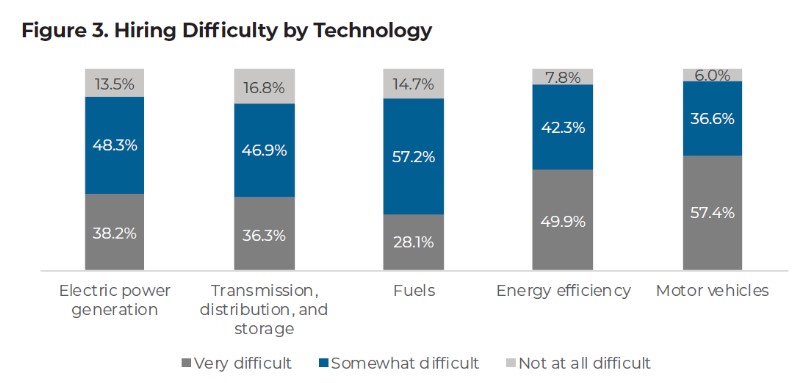 Image Source: https://www.energy.gov/policy/us-energy-employment-jobs-report-useer
Clean energy jobs in the United States are growing faster than other sectors in the rest of the economy. In the Pacific Northwest, this is no different, a growth likely spurred by geopolitical factors, state and local climate policies, and federal funding—notably the CHIPS and Science Act, the Bipartisan Infrastructure Law (BIL), and the Inflation Reduction Act (IRA), which are making the adoption of clean energy technologies more economically feasible.
This growth has made workforce development a top priority for government, academia, and industry. However, this is a challenging problem to solve, and any effective strategy takes time and resources.
According to the CleanTech Workforce Strategy Report conducted by the Center of Excellence for Clean Energy and the CleanTech Alliance, apprenticeship and pre-apprenticeship programs are graduating fewer participants each year due to low enrollment. Companies often can only hire up to one apprentice per term. There is an increase in competition for roles, such as engineers and technicians, and many vacant positions for trade jobs. Additionally, retention is often more challenging due to higher-paying jobs at larger tech companies and the changing cultural norm of staying in one job vs. job hopping.
These gaps are an opportunity for the CleanTech sector to redefine its workforce practices and support the overall transition to clean energy. Re-envision of hiring and retention practices, the way we engaged in multi-sectoral partnerships, and the way we give access to those communities that have not been part of this industry are at the forefront of the conversation that sector leaders, nonprofits, academia, and municipalities need to engage with so we can solve the current and future workforce needs of this sector.   
At the CleanTech Alliance, we have multiple opportunities to engage in these and other meaningful conversations to foster partnerships with interested parties and develop informed and intentional short and long-term workforce solutions.
If you are interested in learning more about how to engage in this conversation, please reach out to our Workforce Development Specialist Benjamin Roldan at benjamin@cleantechalliance.org.
For additional workforce resources, visit: