Seattle, WA (May 12, 2014):  Seattle Steam Company  has been acquired by Brookfield Asset Management Inc.  Seattle Steam will continue to operate in the same customer-focused, sustainable manner as before.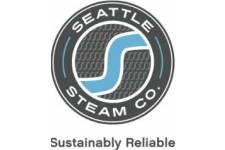 Source:  Seattle Steam Company Press Release, May 12, 2014.
A little about the new owner: Brookfield operates 216 hydroelectric, wind and thermal energy facilities in the United States, Canada and Brazil with assets totaling nearly $116 billion. Like Seattle Steam, Brookfield has run energy operations for more than 100 years. Brookfield is co-listed on the New York, Toronto and Euronext stock exchanges under the symbols BAM, BAM.A and BAMA respectively.
Seattle Steam will be part of Brookfield's infrastructure group, which is currently comprised of four other district energy systems similar to us, and they are located in Chicago, Toronto, Houston, and New Orleans. There are also plans at Brookfield to continue expanding in this industry.

One of the reasons Brookfield was attracted to Seattle Steam Company was because of the renewable energy generating biomass boiler installed in 2010, which allows Seattle Steam to reduce fossil carbon emissions for its customers by up to 60%. Together we are working to address climate change. Brookfield shares our values and believes in the idea of low-carbon thermal energy facilities for urban environments and envisions expansion in this area.
We hope these frequently asked questions and this news release regarding this acquisition are helpful to you.
If you have any questions, please do not hesitate to call Seattle Steam President and CEO Stan Gent, 206 658 2024.