Approximately 6.5 million peopled were employed by the renewable energy industry worldwide last year, according to the latest figures from the International Renewable Energy Agency (IRENA).
The Abu Dhabi-based agency, which represents over 150 countries and was launched in 2009 with a goal of providing a renewable energy-focused partner to the International Energy Agency (IEA), will today publish Renewable Energy and Jobs – Annual Review 2014, a comprehensive report detailing how employment across the sector rose from 5.7 million in 2012 to 6.5 million last year.
"With 6.5 million people directly or indirectly employed in renewable energy, the sector is proving that it is no longer a niche, it has become a significant employer worldwide," said IRENA Director-General Adnan Z. Amin.
He added that the trends uncovered by the report would prove "crucial to developing policy that strengthens job growth in this important sector of the economy".
The report confirms China's position as the world's largest renewable energy market with much of the new job creation coming from the country's booming solar and wind sectors. IRENA estimated that solar PV installations in China grew five-fold between 2011 and 2013, cementing the country's position as the world's largest renewable energy employer with an estimated 2.6 million jobs. It is followed in the renewable energy employment league table by the EU, with around 1.2 million jobs, Brazil with over 890,000 jobs, and the US with 625,000 jobs.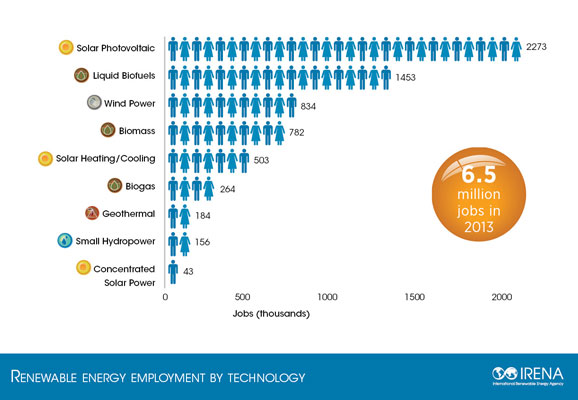 The solar PV industry enjoyed a particularly strong year, according to the report, and now employs over 2.2 million people globally. It was followed by the liquid biofuels sector, which employed over 1.4 million people and the wind industry with over 800,000 employees.
"Surging demand for solar PV in China and Japan has increased employment in the installation sector and eased some PV module over-supply concerns," said Rabia Ferroukhi, heading the Knowledge, Policy and Finance division at IRENA and lead author of the report. "Consequently some Chinese manufacturers are now adding capacity.
The review will be officially presented at the latest international Clean Energy Ministerial meeting in Seoul, South Korea, which will see energy minister from 23 countries discuss measures to further accelerate the deployment of renewables.
The results are likely to be seized upon by advocates of clean energy as further evidence of renewables position as a mainstream energy source. However, it also comes in the same week as the IEA published a fresh report warning that while a number of emerging economies have made impressive progress in accelerating investment in clean energy a slowdown in some mature markets means the "overall picture of progress remains bleak".
The report argues that while renewable energy is commanding an ever greater share of the global energy mix, the continuation of current demand trends that saw overall electricity emissions increase by 75 per cent between 1990 and 2011 would "dangerously drive up electricity-related emissions".