By Bill Lucia, Seattle Crosscut
Some of the Seattle Steam Company's equipment looks like scenery pulled from a factory-set in an old silent film. In the company's two buildings on Western Avenue near Union Street, there are tangles of pipe, wall-clock-sized gauges, groaning boilers, foot-long wrenches and a fiery furnace incinerating wood pulp. Outside, a tall black smokestack rises from the rooftop.
A longstanding fixture in the city, the company opened for business 1893. It currently provides steam to about 200 buildings in downtown and First Hill. To generate the steam, the company heats water with burned natural gas and wood chips, with the chips typically providing two-thirds of the fuel. Mostly used for heat, the steam is transported to customers through an approximately 18-mile-long network of underground pipes.
Among the company's biggest clients are hospitals — including Virginia Mason, Swedish and Harborview — which use steam to sterilize instruments, and office buildings such as the 20-story IBM tower on Fifth Avenue.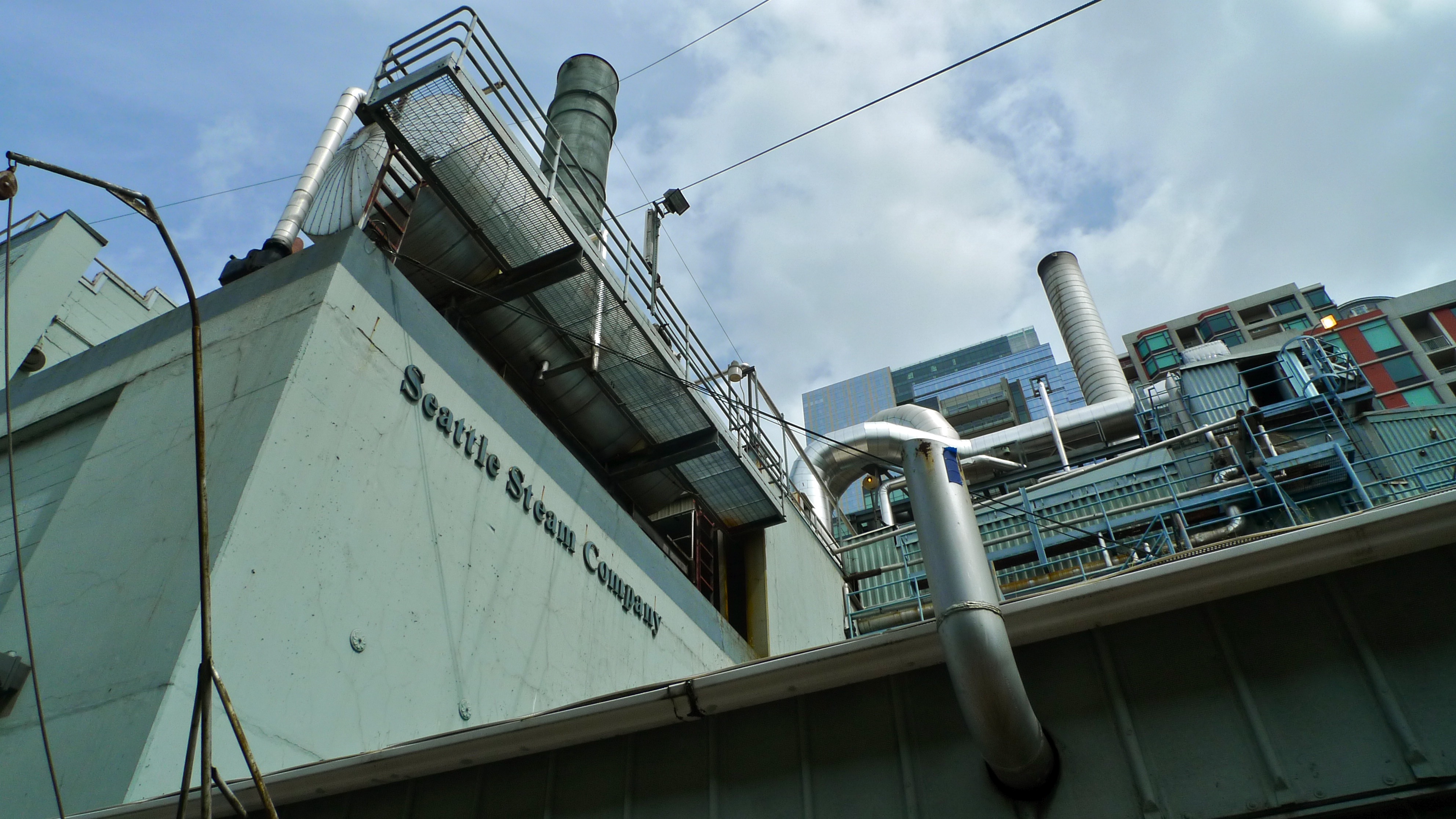 Despite the vintage look inside the company's facilities, Seattle Steam has its eye on the future. On Friday the company opened a new 385-foot well intended to reduce its reliance on the city's water supply. The well will draw water from an aquifer that flows into Elliott Bay. After Seattle Steam uses the water, it will send it back to the bay, via drains and sewers.
The new well will no doubt lower Seattle Steam's water bill. (A company spokesperson could not offer a dollar estimate for those savings.) But public officials and company representatives also pointed to the environmental benefits. The company estimates that the well will save 90 million gallons of water per year in the Cedar River basin which, along with the Tolt River watershed, provides the bulk of Seattle's water supply.
Water flowing through the Cedar River basin is not only used by households and businesses in the city, but also by fish, like salmon, that depend on adequate in-stream flows.
City Council member Mike O'Brien said that while he did not want to oversell the benefits of the well it was a step in the right direction in terms of adapting to climate change. "We need lots of people thinking creatively about the climate," he said.
The well was not the only news for Seattle Steam this week. The company has been acquired by Toronto-based Brookfield Asset Management, which has 216 other hydroelectric, wind and thermal power generation facilities in North and South America. Stan Gent, CEO of Seattle Steam, said in a statement that the deal could help the company reach new customers.