Spotlight your innovation or initiative at the region's premier cleantech innovation event.
Applications to present at the 2018 CleanTech Innovation Showcase are open.Twenty-four presenting companies each receive 20 minutes at the podium to tell the world about their innovations, ideas or initiatives. Presenting company applications close May 1, 2018.
Held June 25, 2018, at the Bell Harbor International Conference Center in Seattle, the CleanTech Innovation Showcase is the region's premier one-day conference focused on technology and business innovation. The 2017 event attracted international industry leaders, investors, policymakers and media to experience what lies ahead in clean technology, renewable energy and environmental sustainability.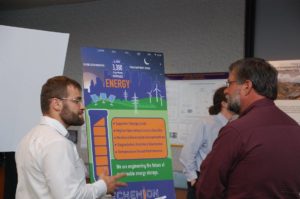 "The CleanTech Innovation Showcase continues to celebrate the ingenuity of regional companies and research institutions, and their impact on our economy and environment" said J. Thomas Ranken, President and CEO of the CleanTech Alliance. "The growing event is a great environment for building partnerships, talking with investors, and learning something new."
Past presenters included organizations as diverse as SuperCritical Technologyies, Boeing, easyXAFS, Helion, Urbanova, UniEnergy Technologies, Beta Hatech, and the Pacific Northwest Laboratory. Don't miss your opportunity to grab the spotlight. Keynote speakers, panels, interactive exhibits and the Cascadia CleanTech Accelerator Pavilion will highlight even more technologies, services and ideas.
"The CleanTech Innovation Showcase allows Boeing to share information about our latest partnerships and projects aimed at reducing environmental impact – such as our stormwater mitigation efforts," said Bill McSherry, Vice President of Government Operations at Boeing Commercial Airplanes. "It really is a must-attend event."
In addition to the Presenting Company applications (apply here!), sponsorship and exhibitor opportunities are also available. Contact Sharon Schierle if you are interested in either at sharon@cleantechalliance.org. Event registration is also open and available here.
About the CleanTech Alliance
CleanTech Alliance represents more than 300 member companies and organizations across the greater Northwest region. Founded in 2007 by business leaders, the organization facilitates the generation and growth of cleantech companies, jobs, products and services to advance the cleantech economy. CleanTech Alliance offers a range of business services and benefits uniquely designed to help businesses gain visibility, access services at a lower cost and benefit from public policy. Learn more at www.CleanTechAlliance.org.
For the latest CleanTech Alliance news and updates, follow us on Facebook, Twitter and LinkedIn.