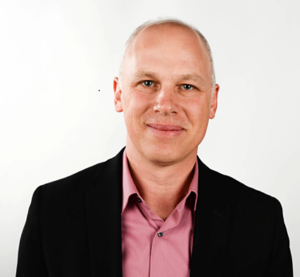 Eric Beckwitt is the Founder and CEO of Freightera. Freightera is an Expedia-like North American platform for automating freight shipping and reducing emissions from freight transport.
Eric has successfully designed, obtained funding for, and implemented large scale private and government resource management projects for 25 years. He has worked as a conservation GIS Analyst, developed global online business systems, and prepared reports for Congress, and the President of the U.S. Eric was the principal development team leader and patent holder of what has become the Freightera freight marketplace application.
Eric is an internationally recognized author and speaker on emissions reduction from freight transport, authoring "A Green Future for Freight" in the 2016 G7 Summit version of Climate Change: The New Economy, speaking at COP22, the UN Climate Change Conference in Marrakesh, and creating North America's First Low Emission Freight Marketplace in cooperation with SmartWay and Natural Resources Canada.  Eric and/or Freightera have been featured in Forbes, Fortune, Inc Magazine, NBC, ABC, and Fox News, among over 300 news sites worldwide.
Transportation, says Eric, accounts for nineteen percent of global green house gas emissions. It uses 64 percent of oil globally.
Carbon emissions from air and marine transport are climbing rapidly; they could be 20-50 percent of global emissions by 2050.  Asia, the Indian Ocean area and the North Pacific are the leading growth regions.
There are significant carbon economies in different freight categories.  Shipping a single ton of goods by efficient shipping (Maersk Triple-E ship) emits 3 grams of carbon.  This compares to 18 grams by train, 45 grams via truck, and 540 grams for air shipping.  Further, more efficient shipping techniques could significantly reduce carbon emissions immediately.
Freightera's low emission freight marketplace can reduce carbon emissions by 60 percent immediately by moving freight via rail.  The company has found that shippers selecting on price are booking the lower emission option 86 percent of the time. Eric sees a world where electrification integrates renewable energy into transportation, particularly with rail.  Over time, predicts Eric, even ocean shipping, air, and trucking have sustainable electric futures that will significantly reduce carbon emissions at competitive pricing.
You can find Mr. Beckwitt's slides here (part 1) and here (part 2).