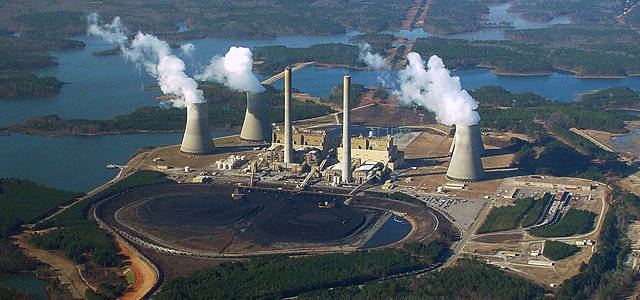 Fifty US power plants emit more greenhouse gases from burning fossil fuels than all but six nations, says a new report.
The study by Environment America paints a bulls-eye on the nation's biggest coal-fired power plants, suggesting that reining in a relatively small share of America's 6,000 electric generating facilities could have a significant impact on greenhouse gas emissions.
The report comes as the Obama administration is preparing the nation's first-ever greenhouse gas emissions regulations for US power plants. The administration's goal is to have power plant emissions regulations in place by 2015, and the new study provides a window into which plants could face steep federal fines unless they slash emissions or close.
The "50 dirtiest" power plants generated nearly 33 percent of the US power sector's carbon dioxide emissions in 2011 but only about 16 percent of its electricity. The top CO2-emitting power plant in the US – Power Plant Scherer in Juliette, Ga. – produced more than 21 million metric tons of carbon dioxide in 2011, a greater total than all of Maine. Ninety-eight of the nation's 100 most-polluting power plants in terms of total carbon dioxide emissions are coal plants, the study found.
The dirtiest U.S. power plants are major sources of global warming pollution on a global scale.
If the 50 most-polluting U.S. power plants were an independent nation, they would be the seventh-largest emitter of carbon dioxide in the world, behind Germany and ahead of South Korea. (See Figure ES-2.) These power plants emitted carbon dioxide pollution equivalent to more than half the emissions of all passenger vehicles in the United States in 2010.
The 100 most-polluting U.S. power plants produced more than 3 percent of the world's carbon dioxide emissions from energy use in 2011, while the 500 most-polluting power plants were responsible for about 6 percent.